According to Theme Park Insider, Disney'sToy Story Midway Mania takes its predecessor, Buzz Lightyear's Space Ranger Spin, one step further, adding 3D imagery to the dark ride/video game mix.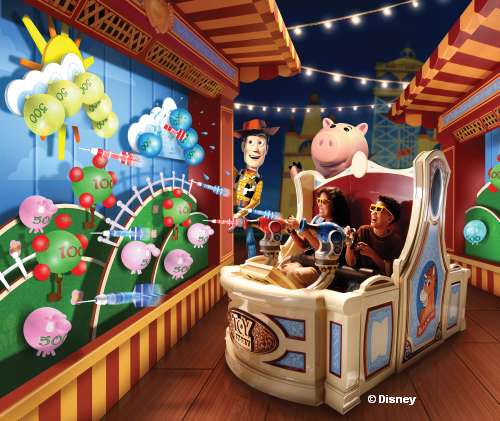 The new ride, shown to the press today at Disney's Hollywood Studios, feels like a next-generation Wii experience. You ride in spinning cars, stopping to play six different big-screen video carnival games featuring Toy Story characters. You "shoot" at virtual targets using a car-mounted pull-string "gun" that launches virtual pies, rings, pins, eggs and suction darts, scoring points with every hit.
Each target is labeled with its point value. (I saw a range from 100 to 5,000 points.) In the later games, hits on certain targets will spawn additional targets, often with higher point values. There's a hint of 4D action, too, as some popped "balloons" will produce a gentle puff of air and other targets splash a few drops back on riders.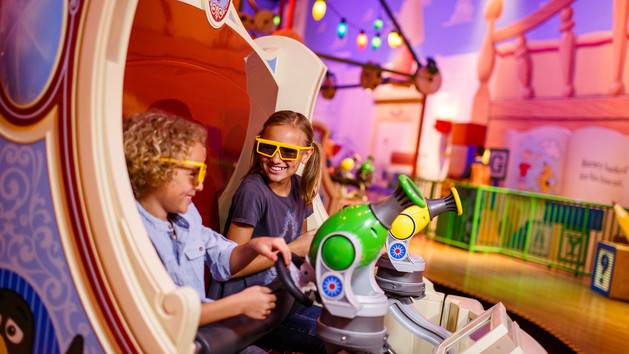 Walt Disney Imagineering senior show producer, director Chrissie Allen explained that the carnival games at Disney's California Adventure provided the inspiration for the ride, which will debut in the Anaheim, Calif. park next month.
"Our original concept designers… were amazed that midway games were still really popular with guests," she said in an interview with TPI. "So we thought, wouldn't that be a cool thing to do, in a new technology sort of way?"
One of the more impressive pieces of new technology in the attraction appears before one sets foot on the ride. The five-foot Mr. Potato Head in the ride's queue might be the most impressive audio-animatronic figure yet created. Incredibly articulate and expressive, in body, eyes and mouth, Mr. Potato Head plays the role of carnival barker, hyping the ride that awaits. The figure is so good, that it'd be worth waiting a few minutes to watch him even when the ride is otherwise a walk-on.
FWIW, west coast theme park fans: Allen said that the ride at California Adventure will be the same as the one at Disney's Hollywood Studios, though the exterior setting will be different (a 1920s-style boardwalk instead of a Pixar-like modern movie studio).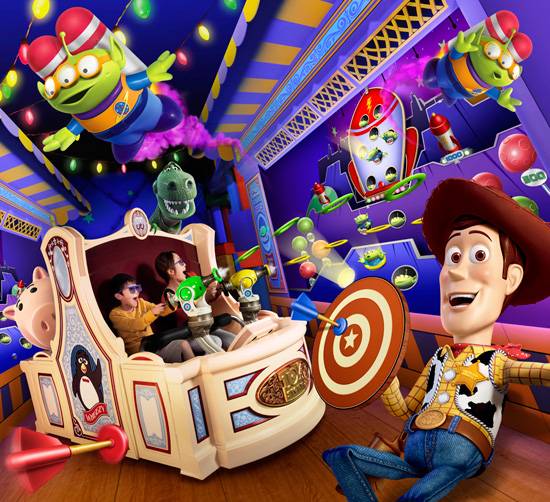 So how did I do? My gun didn't work on the first trip, which did allow me to take notes on the various ride and point values. On the second ride, I scored 114,900, with 23 percent accuracy (TSMM reports shooting percentage as well as point value – nice touch!), and on my third and final trip, I racked up a 119,400, with 24 percent shooting.
The reported top score on the ride this month was 238,900. So the bar has been set.
Overall, Toy Story Midway Mania is a cute and engaging ride, a fun game well worth playing again and again. No, it doesn't offer the deep immersive narrative that one would find on top 3D dark rides like Spider-Man. But that's not what this ride is designed to do. On Toy Story Midway Mania, as Woody told Sid in the first film, "it's play time!"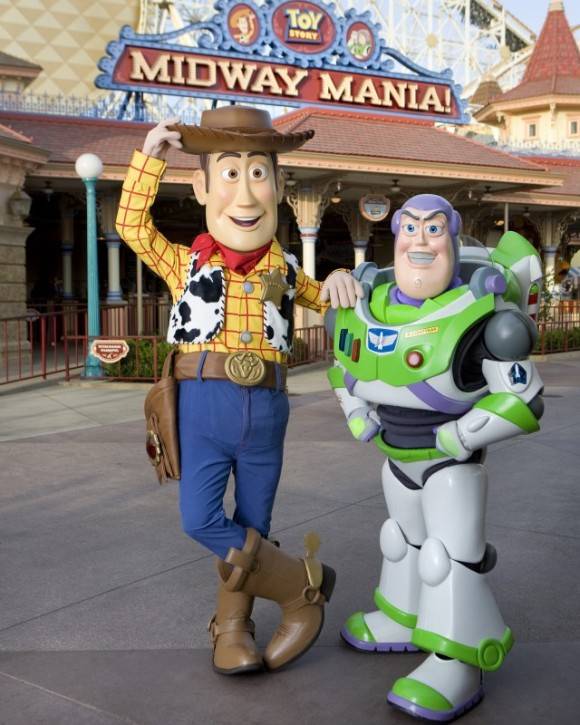 via Toy Story Midway Mania debuts at Walt Disney World
My score on Toy Story Midway Mania! pic.twitter.com/OQaPTqYI44

— Michael (@VirusElite524) May 12, 2016