He is back and more fierce than ever! Are you ready?
Orlando Sentinel reveals a First ride: We visit Universal's Skull Island – Reign of Kong
King Kong is still kind of a big deal in these parts, and now some of us can visit him at the Skull Island: Reign of Kong, an attraction at Universal's Islands of Adventure.
Warning: The ride is not officially open yet. There have been limited previews this week, some days available only to Universal Orlando employees, some days open to whatever visitors are in the theme park at that moment.  So far, the previews have only lasted a few hours each time.  Universal has not announced a schedule or, for that matter, an official opening date for Skull Island. Team members at the attraction said it would "hopefully" be open this weekend, but it was not said in a way that I'd put money on it. It's a definite maybe.
And since this is considered a technical rehearsal, some elements may not be in place. At this point, it's hard to say. But without being too spoilery, here is  what I saw Friday evening on my first run-through of Skull Island: Reign of Kong.
The ride itself is a blend of familiar and fresh in the scheme of Universal blockbuster rides. Yes, much of the action takes place on giant screens.  But for much of the experience, the screen is curved to run above the ride vehicle, and the action – and Kong — can leap seamlessly over us. Likewise for flying dinosaurs.
The vehicles are jumbo. They hold up to 72 passengers, and they lumber out of the gate, parading through a circle drive that passes by the queued-up masses. It's a fun layout.  The vehicles are comfortable – perhaps too comfortable.
Once Universal's monster trucks enter the gates, the attraction's expeditions pass big-time bones and  mammoth hanging bats ("real," not on-screen ones), which set an eerie scene.  Once the action begins, there are some great maneuvers, including a stretch I call "running with the dinos," exposure to very big slugs and an epic battle between Kong and a dinosaur.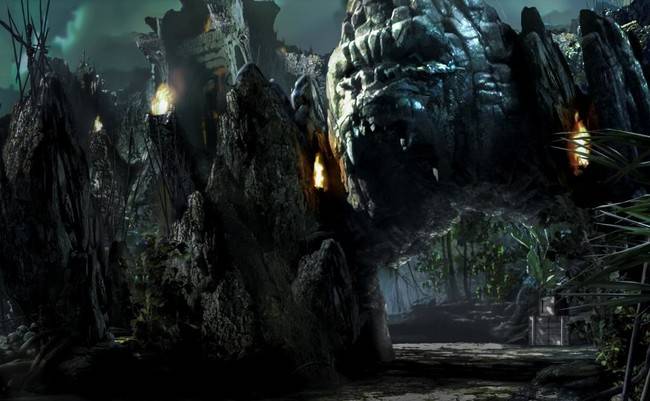 But I felt our truck's reaction didn't always match the intensity of the on-screen action.  In such a prehistoric fight, it seems like the vehicle should be jostled about more.  Other park attractions are rougher on the body than this dangerous-looking outing. Reign of Kong also pulls out this Universal chestnut: We're falling! Been there, escaped that death on Spider-Man, Transformers, Gringotts. Although I must admit that trick is still effective.
Action takes place on both sides of the vehicle, which is both fascinating and frustrating. Where to look? As I'm peering out of the truck on the left side, I got a little bit wet from behind from action on the right side. What was that? Should I ride again?
Good luck with that. My wait was about 75 minutes on Friday night, including an "extended delay" of about 15 minutes. Remember, it's dress rehearsal and these things happen.
The ride culminates with a huge Kong head, very lifelike but, when we passed, pretty sedate. (He's on the right-hand side of the truck, if you can finagle yourself to that side). We are instructed not to panic. Then moments later, yes, go ahead and panic, even though the King didn't seem particularly disturbed.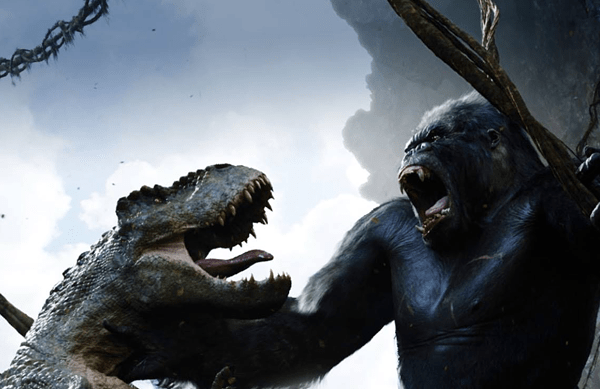 It's been whispered to me that the animatronic has way more motion that what I witnessed, so I'm giving the big guy a soft-opening pass for now. A friend who was about 20 minutes behind me in line said his Kong was more animated and loud and it made more sense.
My friend also had more happen in the queue. For instance, the much-chattered-about presence of "scare actors" a la Halloween Horror Nights was a non-issue for me, even though everyone around us was on high alert for lurking team members out to frighten us.  It didn't happen. My friend did see some of that, and it was unnerving to a nearby child. Your results may vary, in other words.
The queue was long and winding, basically alternates between big rooms with back-and-forth action and little areas and hallways. It reminded me of a cross between the old Dueling Dragons queue (so HERE is where all those skulls went after its Harry Potter reimagining) and the Revenge of the Mummy ride, which is, as fate would have it, where the old Kongfrontation attraction operated. It has an expedition theme and two top-notch, photo-op animatronics.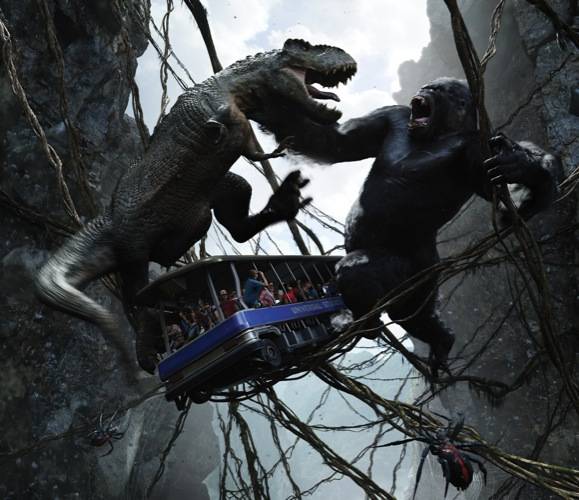 Some people prefer the queue to the ride. I did not. Some people think it's too scary for kids. I'm on the fence. My inner 7-year-old is wigging out, especially in the room with giant glowing skulls, a witchy character and unnerving power outtages. But Uncle Dewayne is more like "Time to grow up, kid." Of course, Uncle Dewayne doesn't have to deal with ensuing nightmares.
Parents, I advise a pre-ride chat with your child. We should not be hearing "Is there a Kong in here, Daddy?" in the queue.
Yep. And he's big. And he might be grumpy.
You're going to enjoy every moment!
June is hot in Orlando in many ways: Skull Island: Reign of Kong at Universal Orlando thursday June 23!

— Destinations Gal (@ChiaraAmina) June 15, 2016