Slash Films.com divulge that after being rumored for months, Marvel confirmed at Comic-Con that Twilight Zone's Tower of Terror would be replaced with a Guardians of the Galaxy Mission Breakout ride in Disneyland Resort's Disney California Adventure theme park. That's not the only new Guardians of the Galaxy ride in the rumor mill, and the latest report claims a Guardians-themed roller coaster could be coming to Walt Disney World's EPCOT.
For the last year, we've been hearing rumblings about a possible Marvel attraction coming to Walt Disney World. The situation is rather complicated due to Marvel's contracts with Universal Orlando Resort (more on that later), but initially, insiders heard rumblings that Rock 'n' Roller Coaster Starring Aerosmith could be re-themed into a Marvel coaster. Then rumors that Twilight Zone Tower of Terror would be getting the same Guardians of the Galaxy-style remodel of the one in Anaheim.
Both attractions have recently seen updates (interactive displays at Aerosmith and a new bar/lounge coming to Terror) which have pretty much confirmed that those reports won't come to fruition.
Last month we heard rumblings that a new Guardians of the Galaxy attraction could replace Ellen's Energy Adventure in EPCOT's Future World's Universe of Energy pavilion. Ellen's Energy Adventure came to EPCOT in 1996, taking riders on "a light-hearted look at various energy resources, how energy is produced, the history of energy production, and the search for new energy resources."
Walt Disney World News Today is now hearing that the building and slow traveling theater ride system will be replaced with a Guardians of the Galaxy roller coaster which would feature "both elaborate scenes and a long roller coaster portion." A similar concept was supposedly in the works for Disney California Adventure's upcoming Marvel Land, which has drawn comparisons to Harry Potter Escape From Gringotts ride which recently opened at Universal Studios Florida. The site's sources believe the new attraction will be announced before the end of 2016, possibly even as soon as the upcoming Destination D event at Walt Disney World. For now, I remain skeptical — I'll believe it when I see it.
WDWNT points out that if true, this would be the first Future World attraction to diverge from the fundamental "edutainment" theme and would be the very first roller coaster in the park's history and only the 6th thrill ride. Disney has been investing in upgrading EPCOT recently, recently retrofitting the Maelstrom attraction and Norway Pavilion with their hit animated franchise Frozen. Guardians of the Galaxy could fit into the sci-fi themed Future World. EPCOT currently sits as the #6 most visited theme park in the world (about 700,000 people above Hollywood Studios and Animal Kingdom).
The most interesting tidbit from the rumor report is this:
The one interesting wrinkle is that the words "MARVEL" nor "Guardians of the Galaxy" appear in any renderings of the attraction that exist so far. This is of course a product of the legal restrictions still in place on Walt Disney World by the parameters of the MARVEL/Universal Studios theme park deal.
The rights issue is really complicated. Universal Studios Orlando owns the rights to Marvel attractions east of the Mississippi, but no one I talked to knows the boundaries of this agreement. Some believe it is limited to only the characters currently featured in Islands of Adventure Superhero Island, while others think there is a dividing line regarding superhero franchises. Marvel's film landscape is divided into the franchise comic books, meaning that Fox owns any character who first appears in an X-Men comic.
When that themed land opened in 1999, the Guardians of the Galaxy were not nearly as popular as they are today, and thus Universal focused on the characters and villains from the Spider-Man, Avengers, X-Men and the Fantastic Four. However, a character like Drax the Destroyer first appeared in the Iron Man comic book series, and we know Universal has a lock on that series.
The restrictions of Universal Studios' deal with Marvel are very complicated, and no one knows for sure if Disney can sneak a Guardians attraction into Disney World.  So far Disney World has had Gamora and Star-Lord appear in limited meet and greets, as well as hosted Marvel movie previews, Marvel movie monorail skins and even include footage from the films in the Great Movie Ride. Even outside the theme parks, the Marvel store in Disney Springs (formerly Downtown Disney) is unable to operate with Marvel in the store's name, instead just called "Super Hero Headquarters."
Most people seem to think that a Guardians ride could not be constructed in Disney World unless Universal were to agree to it, which isn't beyond the realm of possibility (I mean, who would have thought we'd be seeing Spider-Man in the Marvel Cinematic Universe?). Again, consider this whole report to be rumor and speculation until confirmed by the mouse.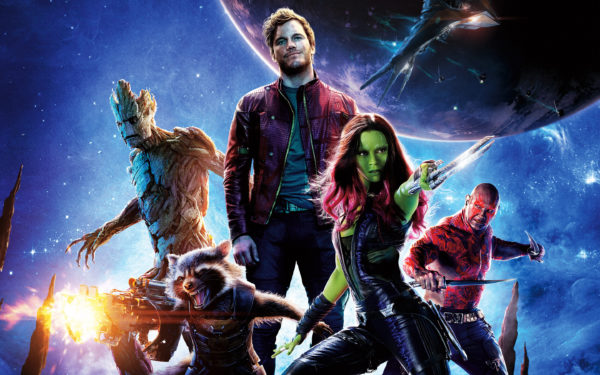 If we know, you'll know!
https://www.facebook.com/DisneyQuestion/
Guardians of the Galaxy Roller Coaster Coming to Epcot-Rumour or Fact!https://t.co/HWPD3fx5EC

— Destinations Gal (@ChiaraAmina) August 19, 2016