Have you tried Butterbeer at Harry Potter World? If not, you'll love Butterbeer! This delicious drink is at the Wizarding World of Harry Potter. It's a must-try for any fan of the series. In other words, keep reading to find out more about this magical concoction.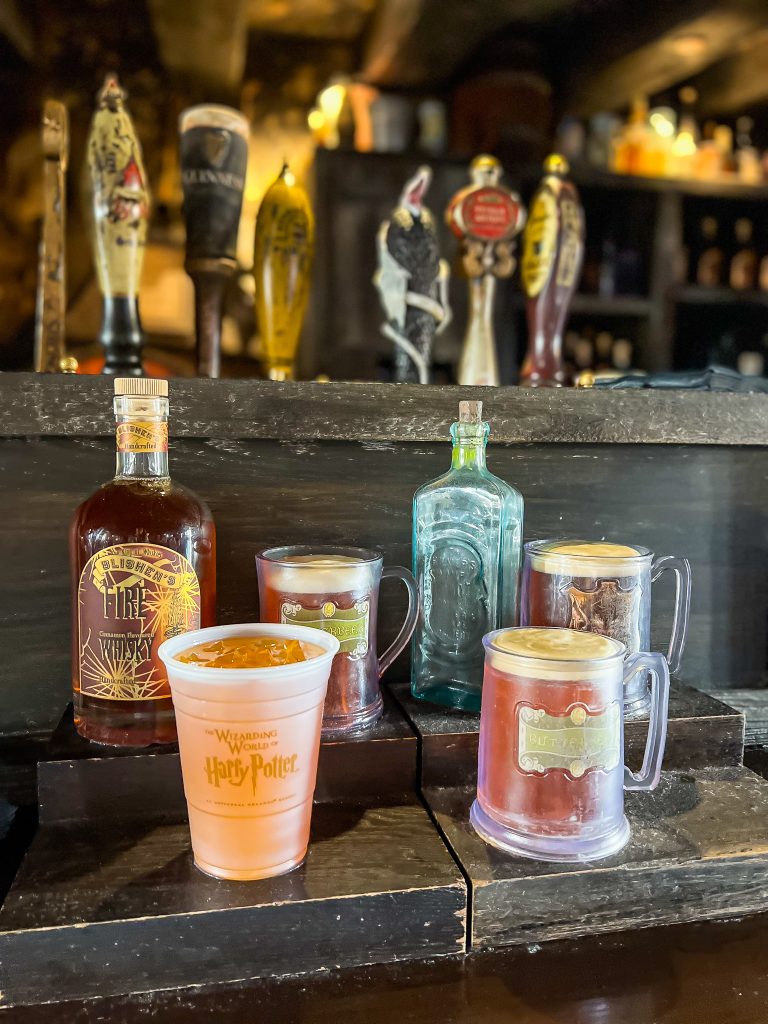 Firstly, you need to know that there are a few versions you can order! My favorite (the best) is the frozen Butterbeer. The frozen Butterbeer has a thick whipped cream layer on top that is creamy perfection. Above all, the frozen is perfect for a hot day in Orlando – which is like every day. You can also get Butterbeer cold – this doesn't have the whipped cream foam on top. I'm honestly not sure why you would get cold when you can get frozen. The last option is getting Butterbeer hot. This option is excellent for a chilly Florida day which does happen (rarely).
The Flavor of Butterbeer at Harry Potter World
So I bet you're like – "that's great but tell us about the flavor." I'm glad you thought this because the flavor is the best part. Butterbeer is a butterscotch flavored, creamy sweet beverage. I know once you have it, it'll be your favorite drink. The hype is real – for a good reason! Butterbeer is famous for having cream soda, butterscotch, and whip cream flavoring notes.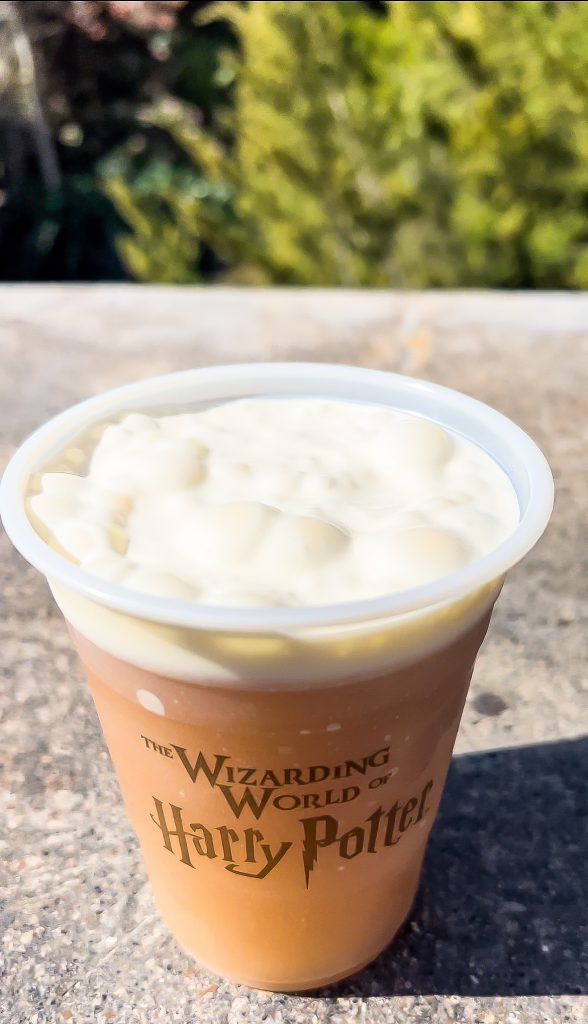 I would be lying if I told you I never asked for extra whip cream on top. The answer to my request was a hard no. The reasoning is that Butterbeer has to be served with a certain level of whip cream on top because this delicious beverage is trademarked. The cost is expensive, but there are other desserts at Disney World that cost more. To get your hands on one of these delectable treats, it'll cost you $7.99 for any temperature you get.
There are numerous locations throughout Hogsmeade and Diagon Alley to purchase Butterbeer at Harry Potter World. My biggest tip is to go into the restaurants and not to the Butterbeer carts in the open streets. The lines are insane in the streets.
If you're looking for a sweet, frothy treat while in Orlando, head over to the Wizarding World of Harry Potter and order yourself a Butterbeer. You won't regret it! Have you tried Butterbeer before? Share your thoughts in the comments below.
Similar Posts
First | Top 5 Reasons Not To Miss Out On The Wizarding World of Harry Potter
Second | Free Mardi Gras Deal at Universal Studios | Plus $50 VISA card
Third | Everything You Need To Know Before Riding Velocicoaster at Universal