According to Sostre News.com Halloween Horror Nights 2016 May Seem Far, but Rest Assured, It is Lurking!
I like Halloween, but no, I do not like scary movies, zombies, vampire, what have you! Why, then, am I drawn to Halloween? It is a mystery to me too, but one thing is for sure, it evokes a fun spirit, and I do like that. Halloween Horror Nights takes place, other than at Universal Studios Orlando, at Universal Studios, Hollywood.
The notorious Terror Tram will feature the filmmaker Eli Roth's deranged mind and characters—like Hollywood Harry- a demented, murderous killer clown. Park patrons will be introduced and informed of his history and background; it will entail how the clown turned into a killer from a jolly, celebrated clown. It also features another clown and his transformation into a vicious killer. That would be "Koodles" the clown, who turned into uncovered his killer instincts, literally, after catering to children jovially, and after being a circus performer.
Like all years, this year will still feature the Jurassic Park ride in "Jurassic Park in the Dark" and other rides like "Transformers 3D" and "Revenge of the Mummy." The scare zone featured this year will be based on The Purge trilogy. Each of the three will be incorporated from the trilogy, undoubtedly spreading mayhem and frightfulness among park-goers.
Mazes this year include: "American Horror Story", which excites me (since I love the show), but I would expect will be brought up in a fearsome manner. All seasons will be dealt with, like "Murder House" and "Asylum" and others. Other mazes include "Freddy versus Jason", "Halloween", "Krampus" a newer and horrific twist on Christmas, "The Exorcist", and "Texas Chainsaw Massacre."
Other attractions include a "The Walking Dead" attraction, where an ominous world is brought to life from the popular television series. You will witness commotion as you navigate through the bloodthirsty undead.
Lastly, having replaced the "Bill and Ted's Excellent Adventures" show, which was ultimately ruled as homophobic, (I do remember the "I'm Ryan Reynolds, not Ryan Seacrest." joke),  the Jabbawockeez will perform.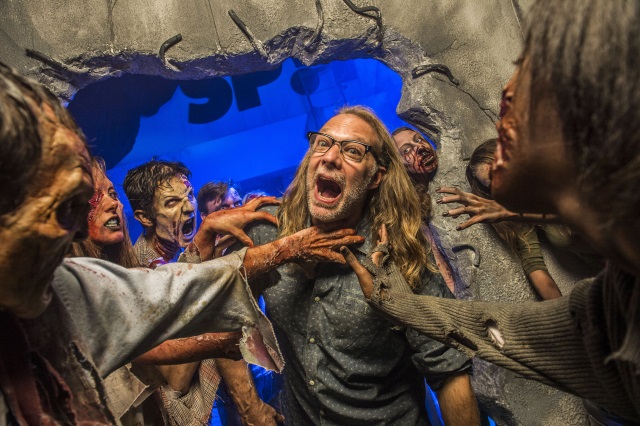 Can you survive?
https://www.facebook.com/DisneyQuestion/
The Walking Dead at HHN 2016 Universal Orlando!https://t.co/kRtXli0cg3

— Destinations Gal (@ChiaraAmina) September 7, 2016