From visits with Santa Claus to meet-and-greets with Rudolph and all his friends from the North Pole, there are plenty of opportunities to celebrate Christmas in a new way. So what are you waiting for? Check out our blog post below before you head out to SeaWorld's Christmas Celebration!
For years SeaWorld Orlando has been the epicenter for Holiday cheer in Orlando. This year you can expect the celebration to be bigger and better than ever. The event will take place from November 12th through January 2nd and will feature a variety of festive shows, parades, and meet-and-greets.
One of the main events of SeaWorld's Christmas Celebration is the Sea of Trees. Sea of Trees takes place at SeaWorld's Christmas Tree Trail, where guests are surrounded by thousands of lights. The glistening forest sparkles to music and lights up the water. The Sea of Trees is perfect for taking pictures to capture the festive spirit in Orlando!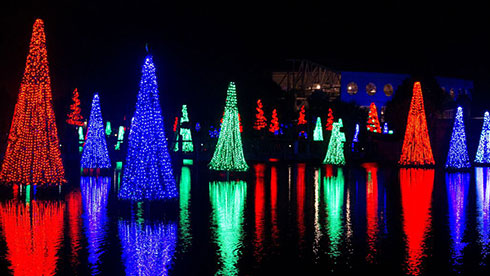 The entire SeaWorld Orlando park is covered in Holiday decor and lights! One thing I particularly loved about the park was how festive it was! There were many places to take cute Christmas photos all along the walking paths. If you're looking for a "Holiday – pick me up!" then just walk around the glowing SeaWorld Christmas spectacle! At every turn, you'll be embraced with the Holiday spirit.
This year, SeaWorld Orlando is celebrating Christmas with a mix of the traditional and modern. In other words, the park will be decked out in festive decorations. Visitors can enjoy live entertainment and meet-and-greets with beloved characters. Above all, head over to SeaWorld's Christmas Celebration Orlando!
Similar Posts
Check Out | Epcot's Festival of the Holidays Insider | Christmas 2021