Compared by the New York Times, hotel companies have expanded their portfolios by adding brands that are designed to appeal to millennial travelers and those who want less service and more connectivity — both technologically and with shared space.
"The way this consumer likes to travel is not to spend time in the guest room but to have access to communal spaces," said Tina Edmundson, global brand officer of luxury and lifestyle brands at Marriott International, which just opened Moxy New Orleans, its second American Moxy hotel.
Moxy's rooms (from $69) are compact, and entry is keyless, connected via a smartphone app. The lobby has a full-service bar, grab-and-go food, games and plenty of outlets for charging electronic devices.
Hyatt Hotels & Resorts' new brand Hyatt Centric is testing fresh approaches to things like room service. At three trial hotels, guests can order in from hotel restaurants, an express menu of sandwiches and salads delivered in 20 minutes, or through the delivery service GrubHub and have the meal charged to the room.
Managers empower employees to connect with guests on a more casual basis, offering local tips not unlike an Airbnb host.
"Nowadays it's about more real interactions, which are less rehearsed or checklist-oriented but authentic," said Jonathan Frolich, the vice president of Hyatt Centric.
The new Arlo Hotels brand opening this fall in New York highlights local partnerships, including staff uniforms by the label Miller's Oath and bath amenities from Blind Barber, and food and drink like True Gentlemen Korean BBQ Jerky and Joe Coffee. Rooms will be compact in favor of generous social spaces that will include a lobby bar, living room, library and courtyard.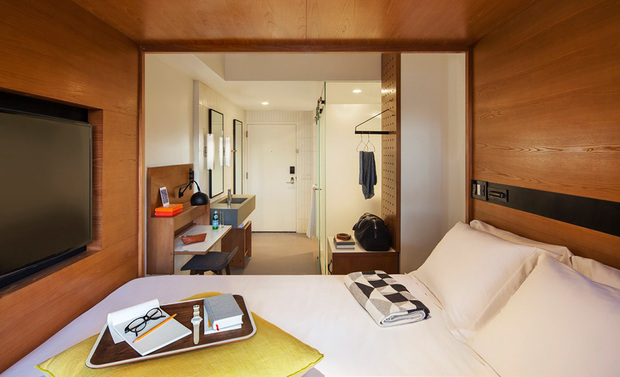 Residential Design
If your next hotel feels more like home, perhaps you can thank home sharing.
Elizabeth Lowrey, a principal and the director of interior architecture at Elkus Manfredi Architects, recently worked on the new Aloft and Verb hotels in Boston. "People who choose Airbnb are seeking an intimate, non-manufactured experience. They want to be embedded in the fabric of a community, where they can feel the uniqueness of place," she wrote in an email.
"This desire for authenticity is driving today's hospitality design — each hotel must tell a story; it must be a place of context, reflective of its neighborhood and community," Ms. Lowrey added.
One fitting example is Roost Apartment Hotel, an extended-stay brand with two locations in Philadelphia featuring apartments with kitchens that look like the hippest Airbnb host decorated them with original art and modernist furnishings. Guests have front desk service, however, and access to a fitness center.
"I think the younger generation doesn't want four people to pick their bags up at the curb and then they have to tip this person and that person," said Randall T. Cook, the chief executive and a founder of Roost. "They'd rather be in a cool neighborhood with bigger rooms, bigger space, maybe with a kitchen that makes them feel like, hey, this is what it feels like to live in San Francisco or Chicago."
Plugged Into the Locale
Airbnb provides an engrossing online experience. Sure, you need to spend a lot of time looking for the right rooms, but its mapping and destination photos help sell the service. Similarly, some hotels have bolstered their own apps focused on connecting guests to the city.
The New York-based app developer Porter & Sail opened last year and now has 42 clients, including the Soho Beach House in Miami where it developed a guide written by local journalists specializing in food, art and fashion. The app doubles as a concierge, enabling guests to make dinner reservations and call Uber.
"Usually our clientele are people who want to be left alone and they don't want a concierge on top of them asking them what they want to do," said Alena Sarduy, reservations manager at Soho Beach House, where 79 percent of guests have downloaded the app.

Thrift Is Cool
If home sharing has made thrift a virtue, it has cleared fresh ground for budget brands. "Airbnb has created a new opportunity for some of the better quality hostel operators that are halfway between Airbnb and a hotel to seize on a new style of hotel," said Mr. Hanson of N.Y.U.
Those may include Freehand hotels, which offer thrifty-chic accommodations, with both shared and private rooms, plus lively cocktail bars and restaurants. Already in Chicago and Miami, Freehand will open in Los Angeles in December.
Founded in 1997, Generator Hostels preceded the Airbnb boom and now has 12 in Europe with the first American property coming to Miami in 2017. Generator emphasizes its bar and restaurant spaces and offers programs like Gen Talks, which are modeled on TED Talks. "Our customer is looking for socializing," said Fredrik Korallus, the chief executive of Generator Hostels. "Airbnb is more individualistic."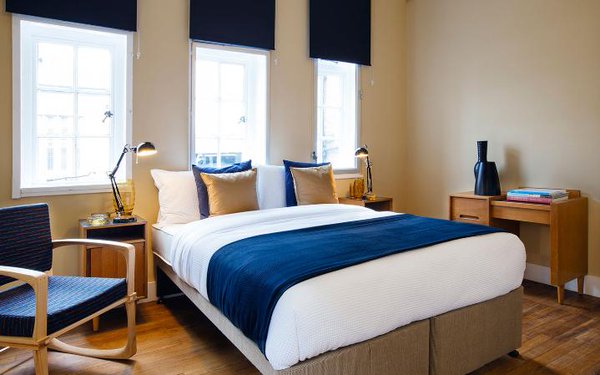 The nonprofit Green Rooms in London represents a new breed of hostel, with private rooms, apartments and dormitories (rates start at £18 a night). It has partnerships with local arts organizations and theaters to house visiting artists. Nick Hartwright, the founder, stresses the social interactions that can occur in the bar, gallery and restaurant or at cultural events.
"That just can't happen when you rent a room in someone else's flat," he wrote in an email. "No matter how beautiful it might be, you're immediately isolating yourself."
Depending on your needs and tastes, you decide!
Hotels vs Airbnb-You Decide!

— Destinations Gal (@ChiaraAmina) July 25, 2016