icflorida sheds light on the grand opening of the Hello Kitty Shop Universal Orlando!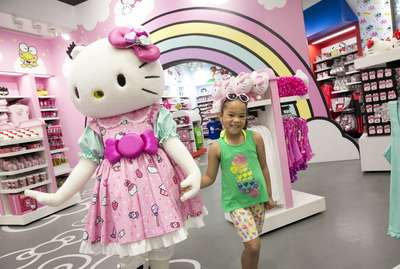 Guests can now enter the supercute world of Hello Kitty at the new Hello Kitty Shop Featuring Hello Kitty and Friends at Universal Orlando Resort.
The new retail experience, located inside Universal Studios Florida, features an array of specialty merchandise – including items exclusive to Universal Orlando – and the opportunity to meet Hello Kitty herself.
As soon as guests walk under the shop's rainbow gateway, they'll be instantly transported into the colorful world of Hello Kitty. The store is divided into four, unique sections:
Hello Kitty Town, where guests can walk through Hello Kitty's community and find products from some of her famous friends
Hello Kitty Sweet Yummy Shop, a section full of Hello Kitty merchandise and sweet treats including Keroppi S'more Fudge, Hello Kitty Chocolate Cupcakes topped with a candy bow and Strawberry Rainbow Fudge
Hello Kitty Lounge, an area where guests can pick up their favorite lounging merchandise like fuzzy robes, colorful slippers and an assortment of Hello Kitty plush
Hello Kitty at the Movies, showcasing Hello Kitty with a classic movie theatre backdrop
via Universal Orlando opens Hello Kitty Shop
Be part of the charm awaiting you at the Hello Kitty Store.
#HelloKitty fans – you can now enter the world of the super-cute at the new Hello Kitty Shop at @UniversalORL. https://t.co/h4ydH5V3kh

— WFTV Social (@WFTVSocial) April 1, 2016