While Donald Trump and Hillary Clinton are hard at work campaigning to be the next Commander-in-chief, I set out on a quest to find some presidential places in Central Florida.
My first stop: One of Florida's original roadside stops in Clermont, the Presidents Hall of Fame.
With a name like that, it seemed like a great place to start. Originally opened as a presidential wax museum in the early 60's, it continues to check off all the boxes of what you'd expect from a great roadsite attraction.
Little do Clinton and Trump know, a win in November not only lands them in the oval office, but it also cements their inclusion into this collection of presidential curiosities.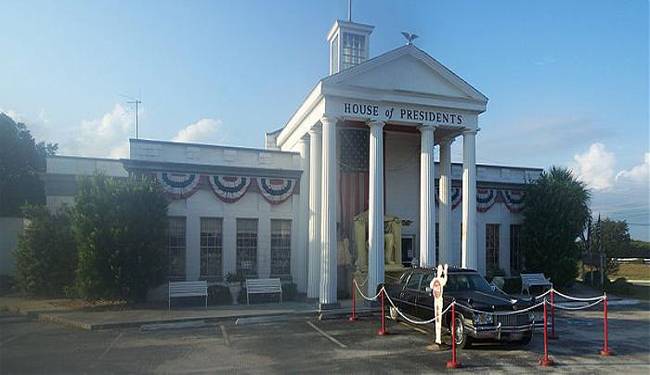 Outside, travelers and locals alike are drawn into the parking lot by miniature replicas of the Lincoln Memorial, Mount Rushmore and Statue of Liberty.
Inside, two rooms and a gift shop are packed floor to ceiling with displays. A cast of Abraham Lincoln's face and hand, wax and animatronic presidents, actual jelly beans that sat at Ronald Reagan's desk and a fortune-telling George W. Bush are just a few of the treasures.
What I didn't expect to find was John and Jan Zwiefel's miniature version of the White House that has traveled all over the U.S. It's made stops at presidential libraries, museums and even the Smithsonian, before landing in its permanent home in Clermont.
This intricately detailed replica spans 60 feet and was decades-long in the making by the Zwiefel family. The model was a personal passion project that first began in the early 1960s and was inspired by a desire to allow anyone to look inside and see the rooms of the White House off-limits to the public. The couple was granted rare access to photograph and measure rooms inside the White House as reference for their project.
You can take a look inside the Presidents Hall of Fame and catch a glimpse at this miniature marvel in my attached video.
— Magical Getaway (@MagicalGetaway) September 28, 2016
— Magical Getaway (@MagicalGetaway) September 28, 2016