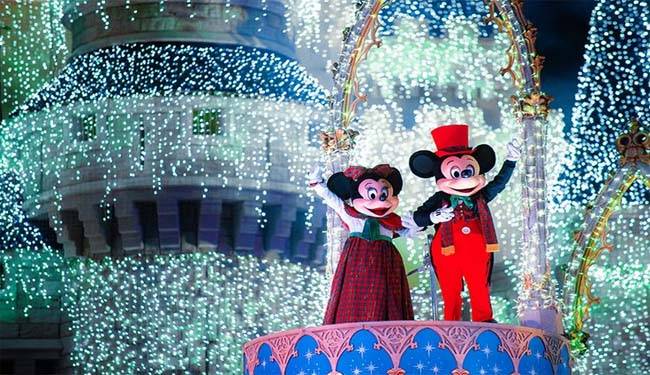 Snow and the Christmas Season seem to go hand in hand. Songs like "Winter Wonderland" and "Let It Snow" are parts of many holiday traditions. The problem is that in Central Florida, the chances of experiencing the "White Christmas" that Bing Crosby sang of are almost nil. The average high temperature in Orlando in December is in the mid 70's, way too warm to expect any frozen precipitation. That's not going to stop the snow from falling at Walt Disney World! The solution is a simple one, they use fake snow. The result is that you can experience snow and still wear shorts and flip flops.
The "snow" that falls at Walt Disney World is known as "snoap". That's because it's really made of soap bubbles, so you'll want to discourage your children from catching it on their tongues. Disney is not the only place where you'll find snoap, it is used in many cities that have little chance of a white Christmas. Still, somehow it's more special when you are seeing it fall in Central Florida.
The main place where you can experience snoap right now at Walt Disney World is at Disney's Hollywood Studios. It falls almost constantly during the Osborne Family Spectacle of Dancing Lights. It is not overdone, and it nicely adds to the Christmas-y feel of the display. Snoap is also used at the Magic Kingdom. If you want to experience it there, purchase a ticket to Mickey's Very Merry Christmas Party.
If you would like to see fake snow and have an evening open, head slightly off of Walt Disney World property to the town of Celebration. Each evening through New Year's Eve you can stop by for Now Snowing. The snow falls at 6:00, 7:00, 8:00, and 9:00. There is also "ice" skating for a fee, carolers, and other surprises. One of the amusing things about Now Snowing is that it attracts a lot of locals. Many of the children who you will see play in the snoap have never seen real snow.
As someone who grew up in New England, I have to admit that fake snow amuses me. I've experienced my fair share of blizzards and shoveled miles worth of the real stuff. Since I now live in Florida, I like that I can enjoy the look of snow, without having clean off my car or worry about ice. Snoap may not be all that close to the real thing, but that doesn't matter. Walt Disney World can take even soap bubbles and make them magical.
via disneydining.com