Fortunately, a little pre-planning and common sense is all it takes to save big on your trip. Following a few of the tips can save you time and money during your trip:
1. Buy your admission tickets in advance

The number one easiest way to save money and a heck of a lot of time is to purchase your theme park tickets in advance. You can save up to a hefty 67% off the gate price when you purchase your tickets through Universal Orlando authorized ticket sellers like MagicalGetaway.com, you can get single-day tickets for as low as $35. Please note that these deals often involve a timeshare presentation, but it's definitely worth the savings you get in return. These deals will really help offset the cost of your entire trip!
2. Know what you want before you buy
Universal Orlando and the other theme parks clearly state that ticket sales are non-refundable and non-transferable. So be sure you know what you want before you make a purchase, and choose the least expensive option if you are not sure. Also, be aware that you cannot legally transfer ownership of your partially-used tickets to another person or to a third-party vendor. If you do so, the person who ends up buying your partially-used tickets may not be able to use them – that's why the parks take a bio-metric scan of your finer.
3. Consider booking your visit as a vacation package
If you are booking a hotel room as part of your Universal Orlando vacation, consider booking your visit as a Universal Orlando vacation package. You will likely end up getting the most value for your money, as opposed to purchasing your tickets and accommodations separately. It's even better when you plan ahead and look for package discounts and individually tailored Universal Orlando vacation packages before you arrive in Orlando. Several leading online vacation providers serve as comprehensive one-stop resources for great deals on vacation packages.
4. Bring a backpack and rent a locker for the day
You may carry your extra items for the day, like extra clothes and sunscreen, in bags and backpacks of a reasonable size. Packing a bag for the day is a particularly good idea if you plan on going on water rides, or if you are visiting during a time of the year when the temperature changes considerably from day to night. If you have an extra change of clothes storied in the lockers, you can avoid buying a shirt and pair of shorts you will only wear once.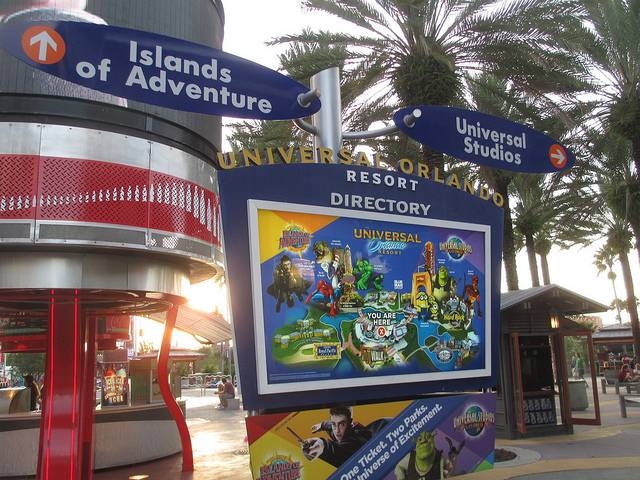 5. Get a Universal Dining Plan or pack a light lunch
Unfortunately, Universal no longer offers its unlimited meal plan, called the Universal Meal Deal. It was replaced in 2013 with two new Universal Dining Plans. The new plans don't make it quite as easy to save money, but if you know what you're doing, you still might be able to save a couple of dollars. If members of your party are not satisfied with quick-service food, or if you're just looking for more inexpensive eating options, you can also bring snacks with you. Universal only states that you cannot bring "picnic lunches or food that requires heating or refrigeration" into the parks (although we see guests bringing in picnic lunches quite often).
6. Do Not buy Express Passes unnecessarily
This paid program is a real blessing for those who have only one day or visit during extremely crowded times, as it allows you priority entrance at each major attraction once during the day. However, if you have a few days allotted or you visit during the slower season, Express Passes are generally not needed. Since each person in your party needs his or her own Express Pass, the cost savings of simply standing in lines can be significant.
7. If you are a AAA member or use an American Express, bring your cards with you
For AAA members, most restaurants at Universal offer 10 percent off food purchases. While this may not seem like much on any one purchase, over the course of three or four days it will add up. Some of the full-service restaurants at Universal's on-site hotels also offer a AAA discount. American Express is the official credit card of Universal Orlando. American Express cardholders receive certain promotions throughout the year.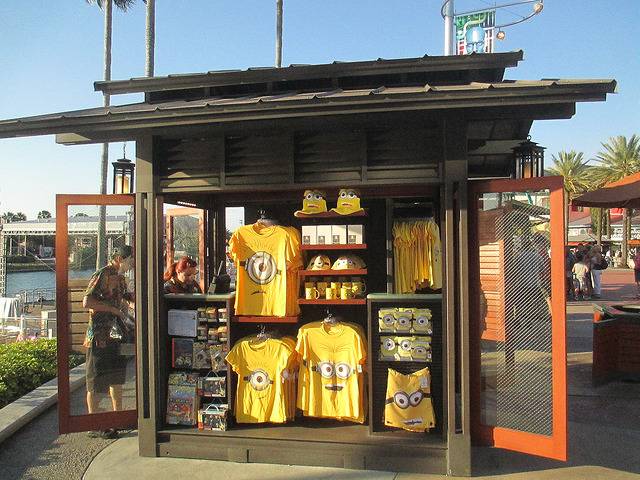 8. Remember that Universal CityWalk is FREE to enter
You pay only for the nightclubs. So, it is easy to make a special evening out of simply strolling and shopping, perhaps having dinner on the outside patio of one of the less expensive eateries. However, if you want table service dining at Universal CityWalk's legendary restaurants, look into special offers that may be in effect. Perhaps you can leave the kids with a sitter while you have a Dinner and a Movie special date night. A variety of promotions are usually available.
9. Put off your souvenir purchasing until the last day
There are fabulous items for sale throughout both parks and Universal CityWalk. Give yourself time to shop around and decide what you truly want in order to curb impulse spending. Most of the time souvenirs end up in the attic or trash, so concentrate on nice items that you actually want to display in your house, not impulse purchases. Stick to the budget – so bring a set amount of cash for souvenirs in order to avoid overspending.
10. Schedule a pool day in between park visits
Too many consecutive days at the park can leave you tired, overheated, and just plain miserable. Save some money by relaxing a day or 2 at your hotel and using the amenities that you paid for. You'll be refreshed and ready for another day at the park!