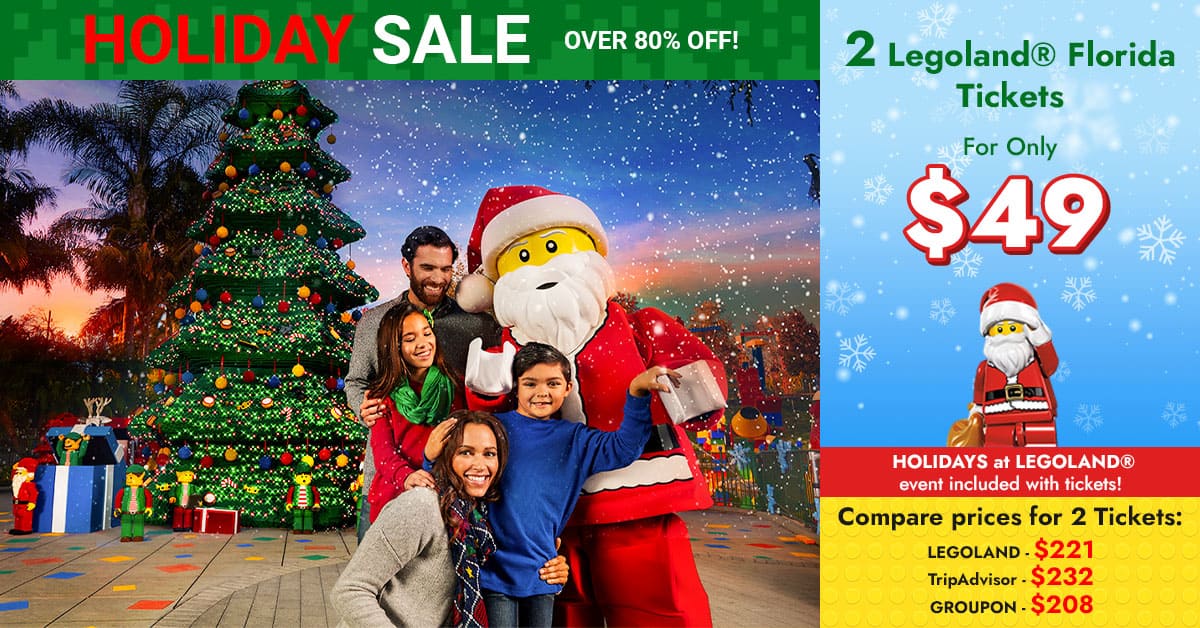 Here is your complete Holiday Calendar for the most magical place on earth!
2016 Holiday Activities and Events at Walt Disney World
Early November 2016 – Early January 2017 (Dates for specific events will vary)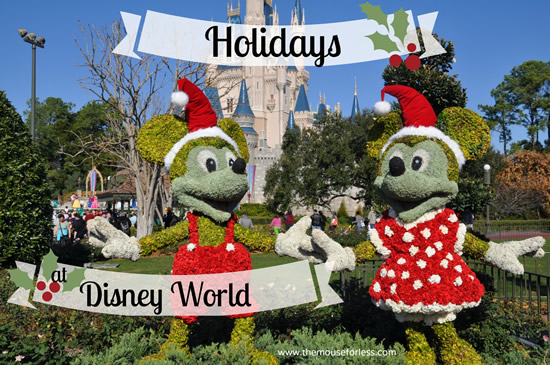 Additional 2016 information will be added as it becomes available.
2016 Holiday Activities & Events Info
There's just so much to do at Walt Disney World during the Holiday season. In addition to special parades and entertainment, dazzling decorations, holiday treats and themed fireworks in the parks, there's lots to do at the resorts and Disney Springs too. So let's get started – it's going to take a while to tell you about it all!
Here's a quick Walt Disney World Resort holiday overview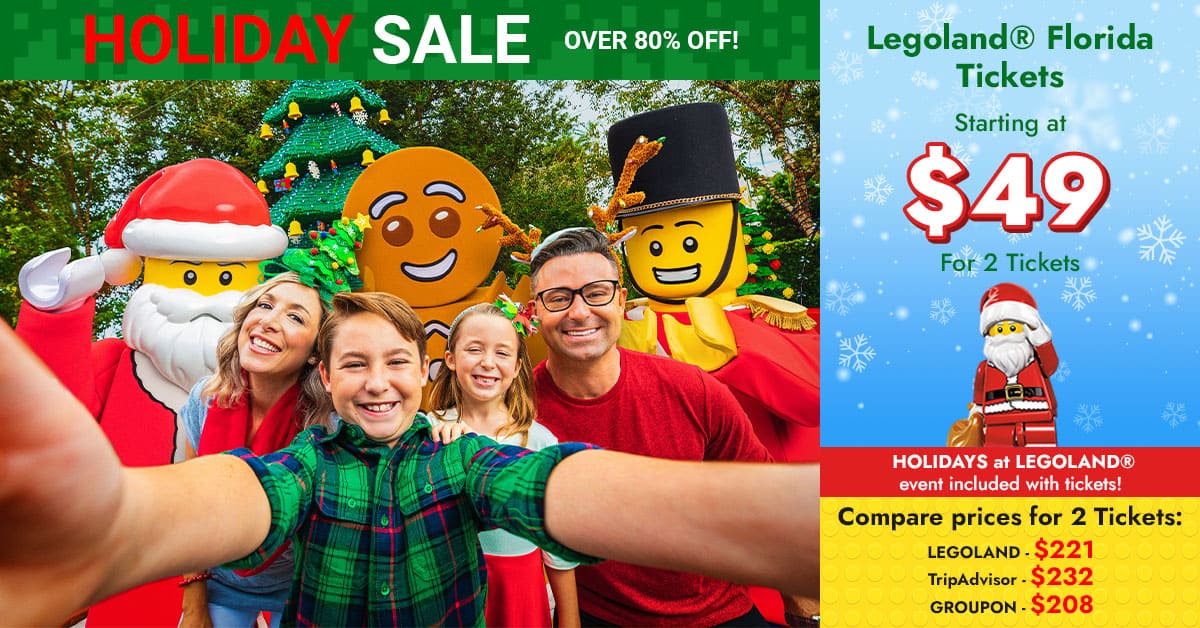 It's the Busiest Time of Year
The week between Christmas and the New Years at Walt Disney World Resort is not for "first-time" vacationers, those who think it's just about the rides or those who do not like crowds. That being said, it can be a most wonderful time of the year – if you plan ahead, know what to expect and come mentally prepared for the challenges.
For the past few years, Magic Kingdom park in particular has had to close its gates due to capacity crowds the week between Christmas and New Years. In addition, the Transportation and Ticket Center Parking lots that service the Magic Kingdom have, on occasion, reached capacity. Guests arriving at the toll plaza of the Magic Kingdom Park on such days are then directed to alternate parking at Epcot where they have the option to park and then use Resort transportation (monorails and/or buses) to return to Magic Kingdom. Parking at all of the monorail and Epcot area resorts is severely restricted beginning a few days prior to Christmas and continuing until after the New Year. High levels of traffic on New Years Eve night typically cause road closures and traffic pattern changes around property.
Tips for handling crowds at particular parks or during particular times during the holiday period can be found throughout our holiday guide. Those who would like to avoid the crowds as much as possible can still take in much of what Walt Disney World has to offer during the holidays by visiting any time beginning early December, with some holiday offerings starting as early as the second week of November. You'll find the dates for most holiday attractions noted in our guide below.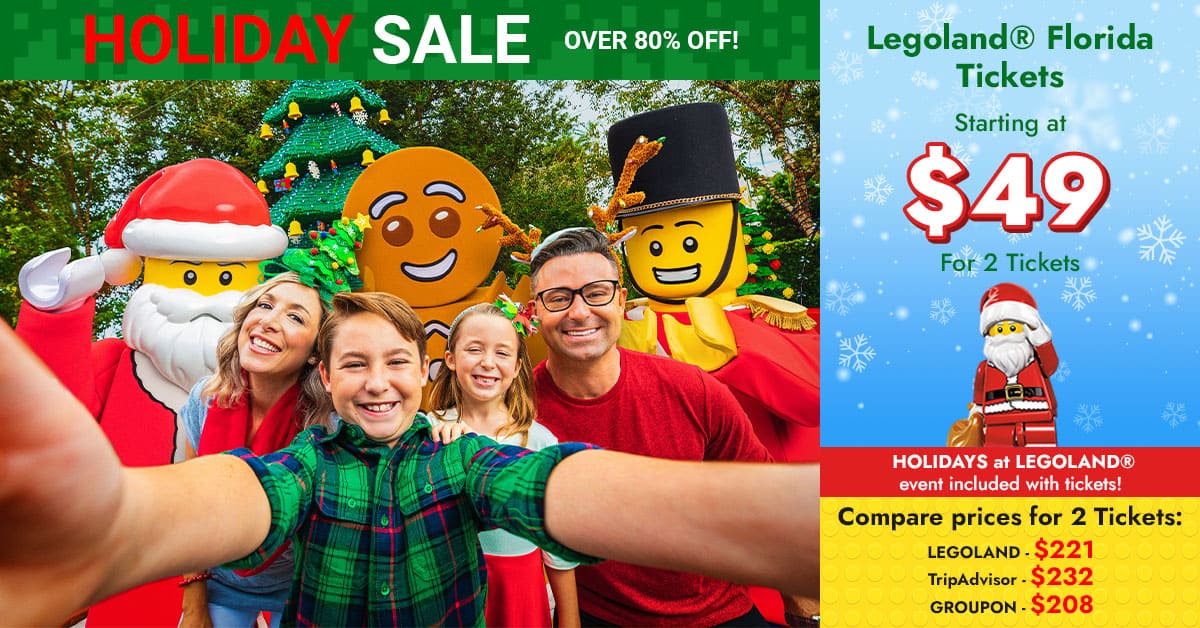 Magic Kingdom Christmas Holiday Events
Extra Park Hours
The Magic Kingdom will have extended hours many days through December, particularly in the days after the last Mickey's Very Merry Christmas Party. Look for Extra Magic Hours to be added near the end of the December. The park is usually open later at night the week between Christmas and New Year's Eve with regular closing ranging from 12 a.m. to 2 a.m.
Mickey's Very Merry Christmas Party
Mickey's Very Merry Christmas Party is a very special event held at Magic Kingdom. The evening requires a separate ticket and is only held on select dates. Visit our Mickey's Very Merry Christmas Party page for complete details.
2016 Dates:
November 7, 8, 10, 11, 13, 15, 18, 27 and 29
December 1, 2, 4, 6, 8, 9, 11, 13, 15, 16, 18 and 22
Mickey's Once Upon a Christmastime Parade
This parade and several other holiday events kick off on nights Mickey's Very Merry Christmas party is held in the Magic Kingdom, exclusively for the enjoyment of party-goers. The general public performance of Mickey's Once Upon a Christmastime Parade will run twice daily from December 20 – 31, 2015 at 12:00 p.m. and 3:30 p.m. Watch for toy soldiers, gingerbread boys and dancing reindeer, Disney characters in their holiday attire, and of course, there will be the wonderful aromas of holiday baking as the songs of the season fill the air. Santa makes an appearance at the end of the parade.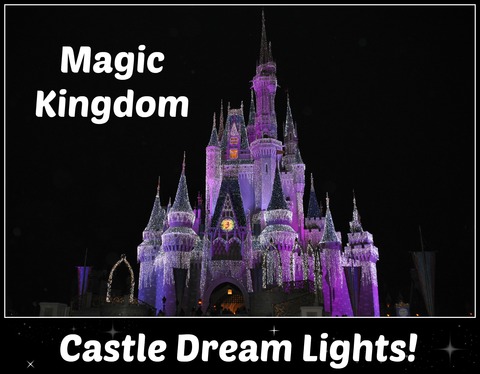 A Frozen Holiday Wish & Castle Dream Lights
Elsa, Anna, Kristoff, and Olaf take to the Cinderella Castle stage daily at 6:15 p.m. and 7:30 p.m. (on regular park days) for the short "A Frozen Holiday Wish" show. The group, visiting from Arendelle, gives guests a treat when they convince Elsa to use her powers to turn Cinderella Castle into an icy, glittering palace. The result is "Castle Dream Lights", featuring over 200,000 twinkling lights draping the castle to create a shimmering ice palace. A Frozen Holiday Wish and Castle Dream Lights can be seen in the Magic Kingdom each evening through December 31, 2015 and is available for all Magic Kingdom guests to enjoy.
Holiday Wishes – Celebrate the Spirit of the Season
During "Holiday Wishes," the evening is capped with eye-popping fireworks over the castle and around the perimeter of the park – all orchestrated to classic holiday tunes. This fireworks show kicks off on nights Mickey's Very Merry Christmas party is held in the Magic Kingdom, exclusively for the enjoyment of party-goers. The general public debut of "Holiday Wishes" takes place after the last Mickey's Very Merry Christmas party is held and runs until the end of the year. Note: The version of Holiday Wishes shown to the general public takes place at 10 p.m. each night and does not include the perimeter fireworks.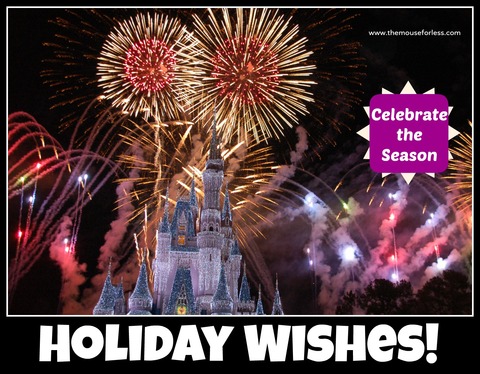 Celebrate the Magic Holiday Projection Show
Using music, storytelling and special effects, "Celebrate the Magic" connects Magic Kingdom guests with some of Disney's most magical film moments and memorable characters. Look for amazing transformations such as the gingerbread castle segment with the castle adorned in candy canes, ornaments, wrapping paper and many more special holiday effects. The holiday version shows early November through early January.

Jingle Cruise
Make sure to make a stop at the Jingle Cruise. This holiday-themed attraction sees the skippers homesick during the holidays. They have decorated the queue house in celebration. In addition, they were planning to have some decorations shipped, but they didn't quite land in the correct destination. The Jingle Cruise boats each are given a unique holiday name, and the Skippers share a slew of seasonal holiday jokes throughout the tour.
Santa Meet-and-Greet
A meet-and-greet with Santa occurs daily at Candy Cane Garden next to City Hall between 10 a.m. and 5 p.m. Santa will also be available during Mickey's Very Merry Christmas Parties.
Christmas Parade Taping
The taping of the Walt Disney World segment of the annual ABC televised parade typically takes place at Magic Kingdom  in mid-November, this year's event will be from November 9-13, 2016. Typically, live acts performing on in front of Cinderella Castle are usually filmed on Friday and the parade portion filmed on Saturday, although the order of filming has been known to flip. However, for this year, the filming at Walt Disney World will consist entirely of stage performances, as the parade portion will be filmed at Disneyland in 2016. The production company will be shooting various parade elements and guest star performances on Cinderella's Castle Stage and Main Street USA. Park guests with admission are welcome to view the taping segments from select areas and should arrive as early as possible. This is no guarantee, however that you will be admitted to the roped off prime viewing areas, usually reserved for cast members and pre-selected audience. This is an actual television production, so expect songs to be sung multiple times or additional delays to occur; also the park can be quite crowded on Main Street causing difficulty getting to attractions. Many guests dress in Christmas attire for this occasion. To avoid crowds, if you are not interested in watching the filming, take the train at the entrance of the park to Frontierland and navigate the park from there. Expect schedule changes and cancellations to park entertainment, especially those on Main Street USA, during the weekend filming.
Note: The parade can be seen on ABC Christmas morning at 10 a.m.- noon in the Eastern time zone, and 9-11 a.m. in the Central, Mountain, Pacific time zone. In addition, this year, it appears that there will be additional television specials that will be filmed that will air on both ABC and Disney Channel.
TheMouseForLess Magic Kingdom Tips

If you'll be visiting the Magic Kingdom during the very busy week between Christmas and New Years, here are a few tips to make your visit go smoother. If you're driving, note where you are parked; parking lots can get jammed-packed during this time of year. If you're staying at a Disney resort, by all means, use Disney transportation to the park. Arrive at the park early; park closures in the early afternoon are highly possible. Use the Walt Disney World Railroad upon entering the park to circumvent the crowds on Main Street USA. Make sure that you've made dining reservations well in advance if you'll be eating a sit-down meal in the park. Even you're planning on just grabbing fast food, eat at off-hours when the crowds are likely to be less. Those staying at Disney resorts may want to plan on returning to their resorts late afternoon for a bite to eat and a nap – then return to the park and enjoy the late hours (into the wee hours of the morning) when crowds are diminished. If you're visiting on New Year's Eve, follow the advice on our New Year's Eve page as it differs slightly. If you are a Walt Disney World guest, make sure to make yourFastPass+ selections well in advance so you're assured of enjoying a few of your favorite rides, but don't plan on making your park day all about the rides. It's also a great time of year to enjoy some of the less popular rides like Country Bear Jamboree, Hall of Presidents and Carousel of Progress. Allow plenty of time for restroom visits; there will be lines! Enjoy yourself and take in some of the special entertainment and shows offered this time of year. Be patient and polite, everyone is likely to be a little frazzled by the crowds.

Get into the holiday spirit. Wear that holiday sweater to the park. Guests have even been know to string strollers (and themselves) with battery operated holiday lights. You can even find Mickey ear hats in the park that light up. Lots of fun holiday attire is available in park merchandise shops.

Take the time to check out all of the beautiful Christmas decorations and live afternoon holiday entertainment on Main Street USA. Town Square offers a wonderful photo op with life-size wooden toy soldiers. Plus, following the taping of the Christmas parade a giant tree is erected in Town Square. The Emporium has fantastic holiday-themed windows and the hub area is filled beautiful poinsettia trees. The popular Main Street U.S.A. quartet, The Dapper Dans, add holiday songs to their repertoire. The Main Street Trolley Show also gets a holiday makeover as performers in green and red attire perform holiday songs and the trolley car is decked out in garland, ornaments and bows.

Stop by the Ye Olde Christmas Shoppe in Liberty Square for all of your tree decorating needs, especially if you must have a Disney theme! Pickup a personalized Christmas ornament to commemorate your trip. Plus, during the holiday season, one lucky family will be chosen each day to decorate the Magical Moments Christmas tree at Ye Olde Christmas Shoppe. You can see a video of one family decorating the tree on YouTube.

Mickey's Once Upon a Christmastime Parade and Holiday Wishes will begin running in November for the enjoyment of those attending Mickey's Very Merry Christmas Party, but won't be available for general public viewing until approximately a week before Christmas. The trade off for waiting until after Mickey's Very Merry Christmas Parties to see the special holiday parade and fireworks in the park for free is that you'll be viewing it during one of the busiest times of the year at the Magic Kingdom. In addition, Mickey's Once Upon a Christmastime Parade will run as an afternoon parade. The daytime performance of the parade lacks the special lighting and ambiance watching the parade on Main Street U.S.A. at night lends, as snow gently falls from the sky. If at all possible, try to see this parade at least once during Mickey's Very Merry Christmas Party where it is a completely different experience.

If you'll be visiting the Magic Kingdom during the approximately two weeks between when Mickey's Very Merry Christmas party ends and NYE, don't overlook special shows such as A Totally Tomorrowland Christmas (Tomorrowland Stage) and Celebrate the Season (Castle Stage). These shows are available to the general public for two weeks only. "Celebrate the Season" takes place on the Castle Stage and is the more popular of the two shows with its classic Disney characters (Mickey, Minnie, Donald, Goofy, Chip, Dale), a salute to "The Nutcracker" and sing-along format. You'll want to arrive early to get a spot for that one. A Totally Tomorrowland Christmas, a high energy Christmas bash with Buzz Lightyear, Mike Wazowski, Stitch, dancers and singers. Check the times guide for times throughout the afternoon and evening.

There are some great photo vantage points to capture the castle all dressed up in holiday "Dream Lights". PhotoPass photographers are generally available from in front of the Castle, on the Tomorrowland Bridge, and in front of the Rose Garden.

Those wishing to view Holiday Wishes fireworks from outside the parks during MVMCP nights can do so from the observation deck on the 4th floor of the Contemporary Resort, from the beaches (piped in music) of the Polynesian Village Resort, from the marina dock (piped in music) at the Grand Floridian Resort and from Transportation and Ticket Center along the walkway to Ferry loading area (breathtaking free views with piped in music), as well as restaurants such as California Grill and Narcoossee's or, for larger groups, one of the private Magic Kingdom firework cruises.

Be on the lookout for some great treats this holiday season at Main Street Confectionery, Big Top Treats, and other locations throughout the park. Spotted previous years were Santa hat cupcakes, snowman or snowflake caramel apples, reindeer cake pops with pretzel antlers and a souvenir Mickey Santa popcorn bucket.
Epcot Christmas Holiday Events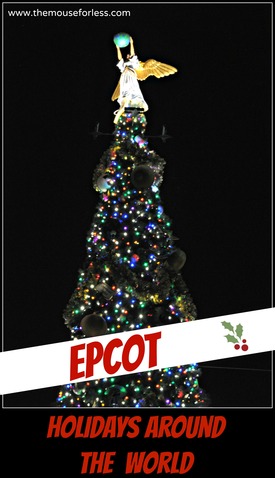 Holidays Around the World
International holiday traditions unfold when storytellers such as Pere Noel in France, La Befana in Italy, and others, share the traditions of the season and spread the message of goodwill in short presentations that take less than 15 minutes. Holidays around the World takes place November 27 – December 30, 2015.
Holiday Passport
Disney offers a holiday edition of its World Showcase Passport. The Holiday Passport features holiday treat and beverage locations, holiday merchandise, and holiday entertainment for each country around World Showcase, as well as any holiday photo ops. There's also a place to collect the tradition country stamps. You can even get ask the Epcot Storytellers to sign each country of your Holiday Passport (or your autograph book), and don't forget to get your photo taken with them. Pickup the booklet at holiday snack & beverages kiosks around World Showcase.
Longer Park Hours
Beginning November 27, Epcot's World Showcase will remain open until 9:30 p.m. each night!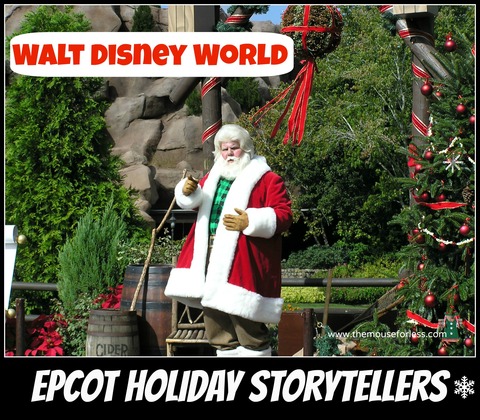 Holiday Storytellers at World Showcase
Storytellers appear in each country's pavilion throughout the day. Check the times guide for a daily schedule.


Canada: The Canadian Holiday Voyageurs will take guests on a musical journey across the Great White North, exploring unique holiday traditions from the various regions of Canada.

United Kingdom: Father Christmas tells tales of Christmas past dating back to 15th century England.

France: Pere Noel awaits your visit as he unfolds magic of Christmas with a letter from a child.

Morocco: Journey through the seasons of holidays. In Morocco, celebrations are "the spice of life."

Japan: Daruma vendor tells the story of the Daruma doll and the Japanese customs of the New Year.

American Adventure: Discover the connection of today's Hanukkah tradition and the story of the brave Maccabees and the lamp that burned miraculously for eight days or, experience the spirit of Kwanzaa, a celebration of family, creativity and community. Plus, don't miss the Voices of Liberty Dickens Carolers. This outstanding a cappella group brings in the holidays with a special repertoire of holiday songs. See Santa info below.

Italy: La Befana is Italy's good Christmas witch. She comes down the chimney of the little bambinos (children) and leaves them treats. La Befana remembers the Epiphany and her first Christmas 2,000 years ago.

Germany: Listen as Helga tells the story of the first Christmas tree and the tale of her first Nutcracker.

China: Enjoy the Chinese Lion Dance, which brings good fortune during the celebrations of Lunar New Year and Lantern Festival.

Norway: Sigrid, a beautiful farm girl, will give you all details of celebrating Christmas in Norway, and tell you of the mischievous Julenissen, or Christmas Gnome. Be forewarned though, Julenissen has been known to play a little trick or two on the storyteller herself.

Mexico: Celebrate with mariachis and dances with a holiday fiesta. Share in the music, dance and traditions of the season.
Candlelight Processional
Showing nightly to park guests from November 27-December 30, 2015 at 5:00p.m., 6:45p.m. and 8:15 p.m. TheCandlelight Processional is a breathtaking retelling of the Christmas story in words and music complete with a 50 piece orchestra, choir and celebrity guest narrator. Candlelight Processional Dining Packages with reserved seating may be booked by calling (407) WDW-DINE.
Santa Meet and Greet
Whisper your Christmas wishes in Santa's ear at Santa's Village in the American Adventures pavilion in World Showcase. Santa appears from November 29 – December 24 at 1:30 p.m., 3:30 p.m., 5:30 p.m., 7:30 p.m. Sessions are 70-minute each. Even Mrs. Claus will be there.
IllumiNations: Reflections of Earth
This kaleidoscope of lasers, lights, fireworks and music features a special holiday ending from November 27 – December 25, 2015 at 9:30 p.m. nightly and from December 19 – 30 at 10:00 p.m. nightly. The "Peace on Earth" holiday finale is narrated by Walter Cronkite. Some of the best viewing spots include the area between the two gift shops at the entrance of World Showcase, the balcony at the Japan pavilion, on the bridge between France and the United Kingdom, at the front of Italy's pavilion (this area is often occupied by private parties), or from patio seating at Rose & Crown or La Hacienda de San Angel restaurants.
Holiday Tastes from Around the World
Sample some delicious treats throughout World Showcase.
Mexico – Sweet tamales.
Norway – Frozen Peppermint Trifle; Traditional Rice Cream.
China – Kaikouxiao (Happy Face Fried Cake).
Germany – Stollen, the classic holiday fruit bread; Glühwein, a hot spiced wine; Werther's Original specialty drinks and treats, and a German artisanal cheese plate.
Italy – Prosecco sparkling wine and Panettone (Italian Christmas bread).
Sugar and Spice Shop in the America pavilion serves many traditional treats perfect for sampling while listening to Candlelight Processional. Mrs. Claus' bustling bake shop serves delicious treats you should try such as gingerbread men, chocolate chunk and sugar cookies, hot chocolate, hot apple cider, delicious peppermint bark, holiday tree sugar cookies, eggnog, hot chocolate with peppermint Schnapps, and eggnog with Buffalo Trace Kentucky Bourbon.
Japan – A savory grilled Kurobuto pork sausage with pineapple and onions and Hitachino Ginger Beer.
Morocco – honey chocolate baklava.
France – A classic Buche de Noel au Chocolat (chocolate Christmas log) and a special glace à la cannelle et noix de pecan caramélisées (cinnamon ice cream and caramelized pecans).
United Kingdom – Hot applejack cider.
Canada – Pecan maple bark.
Promenade Refreshments – A little savory, a little sweet: a warm turkey sandwich on cranberry bread with mashed potatoes and gravy; peppermint sundae, chocolate grasshopper, hot chocolate, hot chocolate with Godiva Coffee Liqueur and Red Hook Winterhook Ale.
Fountainview in Future World — Mickey Santa Hat Cupcake.
Holiday Character Topiaries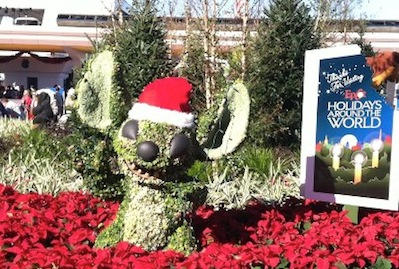 These festive red, white and green topiaries feature beloved Disney characters and can be found in several locations in the Future World section of the park.
Fountain Stage
Taking place on Future World's Fountain Stage, this holiday show features the group D'Vine Voices. The show blends Gospel music and inspirational music. Also taking place on the Fountain Stage will be performances by the American Music Machine, a five-member a cappella group who will be bringing a contemporary take on classic Christmas songs. American Music Machine will be performing both modern and nostalgic holiday hits, including "White Christmas," "Rudolph the Red-Nosed Reindeer" and "All I Want for Christmas is You."
TheMouseForLess Epcot Tips

You can read more about Holidays from Around The World at Epcot on our MFL Blog.

Special musical performances can be found throughout the park. The JAMMitors, a talented group of musicians that play percussion on garbage pails entertain Epcot guests with their holiday show. Look for them in Future World section of the park. At Germany in World Showcase, during the holidays at the Biergarten restaurant, the oompah band plays holiday favorites in addition to beer drinking songs. Also stop by American Adventures Pavilion in World Showcase to hear the a cappella group, Voices of Liberty. The group gets out their holiday songbook this time of year.

Epcot's holiday tree is located at the entrance of World Showcase Plaza. Its ornaments represent the various countries around World Showcase. You can find another large holiday tree at the American Adventure Pavilion in the center of Santa's Village.

If you'll be visiting Epcot during the very busy week between Christmas and New Years, it's a great time to take in some of the less popular attractions like American Adventure, Impressions de France, and Reflections of China where crowds will be more manageable.

If you only have time to visit a few holiday storytellers at World Showcase, be sure to stop by Norway, China, Italy and Canada.

Visit Port of Entry for holiday themed keepsakes or visit Santa's Village near American Adventure for all of your holiday trimmings.

Check out the gingerbread holiday display of the United States Capitol Building at the American Adventure Pavilion. The display features 5 hidden Mickey's and a handcrafted garden, plus handcrafted miniature people made of chocolate!
Disney's Hollywood Studios Christmas Holiday Events
Jingle Bell, Jingle BAM! Nighttime Spectacular
The all-new Jingle Bell, Jingle BAM! holiday spectacular will take place at Disney's Hollywood Studios from November 14 through December 31, 2016. During the show, Guests will learn that Santa Claus is missing and there is a search-and-rescue mission to get him back to the North Pole in time for Christmas Eve. The show comes to life on, above and around the Chinese Theater and includes state-of-the-art projections, special effects, fireworks and a seasonal musical score.
As a reminder, The Osborne Family Spectacle of Dancing Lights was retired in 2015, due to the construction and changes occurring at Disney's Hollywood Studios to prepare for Star Wars Land and Toy Story Land.
Santa Meet & Greet
Guests will be able to meet Santa Claus in a vintage setting at the Once Upon A Time shop on Sunset Boulevard from  November 14 through December 24. After that, Santa Goofy will step in for Old Saint Nick when he returns to the North Pole. Santa Goofy will meet Guests from December 25-31
Minnie's Holiday Dine at Hollywood & Vine
New for this year and taking place most dates from November 7, 2016 – January 6, 2017 will be Minnie's Holiday Dine at Hollywood & Vine. The meal will be the place to celebrate the holiday season as Minnie Mouse hosts a festive dinner with her friends Mickey Mouse, Donald Duck, Daisy Duck and special guest Santa Goofy. Holiday themed décor, food, music and activities create the perfect place to deck the halls with friends and family. The cost of the meal is $46.99 for adults ages 10 and up and $27.99 for children ages 3-9.
TheMouseForLess Disney's Hollywood Studios Tips

If you'll be visiting Disney's Hollywood Studios during the very busy week between Christmas and New Years, it's a great time to take in some of the less popular attractions like Indiana Jones, and Muppet*Vision 3D where crowds will be more manageable.

It's a Wonderful Shop, sells Christmas decorations and is open for the holidays.

There are a variety of small holiday touches featured throughout Disney's Hollywood Studios. Here, "Tinsel Town" takes on a completely different kind of meaning at this theme park that celebrates the magic of movies and television. A giant Christmas tree towers over the main entrance, holiday displays capture the imagination, and colorful garlands and lights sparkle.

Check out the gingerbread holiday display at Hollywood Brown Derby, which is a replica of the original Brown Derby Restaurant.

A special holiday-themed cupcake is available at many locations throughout the park. This cupcake can be purchased for $5.99 at  the following locations:
ABC Commissary
Backlot Express
Fairfax Fare
Pizza Planet
Rosie's All-American Cafe
Starring Rolls Cafe
Studio Catering Co.
Trolley Car Café
Animal Kingdom Christmas Holiday Events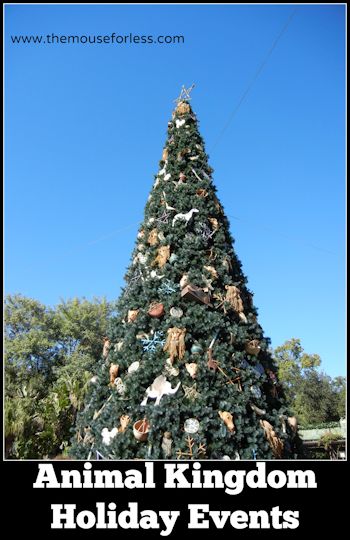 Adventurer Outpost
Guests can meet Mickey and Minnie in their holiday sweaters at Adventurer Outpost on Discovery Island.
Santa Goofy
Over at Dinoland, Santa Goofy meets with guests and poses for photos intermittently from 11:00 a.m. through park closing. Guests can meet other favorite Disney characters dressed in their seasonal best at Disney's Animal Kingdom. They will find:
Donald Duck in DinoLand U.S.A
Mickey and Minnie Mouse on Discovery Island
Chip and Dale at Rafiki's Planet Watch
Baloo and King Louie in Asia
Santa Goofy in DinoLand U.S.A
Holiday Decorations
Animal Kingdom park will be decked out for the holidays through early January 2015.
TheMouseForLess Animal Kingdom Tips

Be sure to check out the huge Christmas tree at the park's entrance with its amazing animal-themed decorations.

During December, be sure to stop by the Wildlife Tracking Center at Conservation Station and join in the fun. There is usually some type of family-friendly holiday activities going on.

Look for holiday goodies at Kusafiri Bakery. Every year, among other offerings, this quick service spot serves up an awesome chocolate mousse filled Yule Log.

Check out the three foot long gingerbread holiday display at Tusker House called the Gingerbread African Marketplace. The display contains 8 lbs of honey, 23 lbs of flour, 6 lbs of eggs, 1 lb spices, 5 lbs of white chocolate, 9 lbs of icing, 25 lbs of dark chocolate, 5 quarts of egg whites, and 10 lbs of confectioners' sugar.
Disney Springs Christmas Holiday Events
Holidays at Disney Springs
Enjoy the hustle, bustle and good cheer of the holiday season in the Downtown Disney/Disney Springs area. Great shopping, live entertainment and a fantastic photo op with Santa himself make this the perfect one-stop, holiday shopping location. Check out the dazzling displays of holiday trees, lights and the special holiday window dressings that adorn the shops and restaurants. Feast your eyes and ears on the seasonal carolers, musical acts and holiday variety performers, including Toy Solider stilt walkers, Snowflake performers, a Kwanza Celebration, and Hanukkah medleys throughout the streets.
New for 2015 will be the holiday backdrops that will be coming to the Marketplace and West Side that are made to look like pop-up greeting cards, which will be the perfect place to pose for family photos. Also, three new unique-to-Disney-Springs holiday trees will make their debut this season.
The Downtown Disney/Disney Springs area is truly a winter wonderland from Thanksgiving through the end of the year.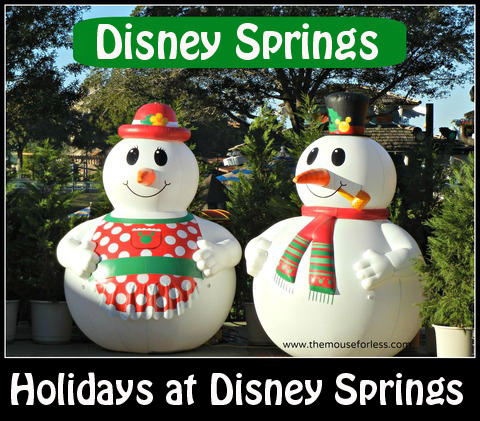 Santa at Disney Springs
Santa appears at Santa's Chalet, located in a new location found across from Ghirardelli Soda Fountain and Chocolate Shop in the Marketplace section, daily from mid-November through Christmas Eve. There is no charge to see Santa in this location.
Guests who wish to meet Santa will be able to pick up a pager upon check-in to secure their place in a virtual queue line. Upon arrival, you'll receive a pager from one of Santa's Helpers; when it's time to take your place in line, you'll be notified. Simply return to the podium within 10 minutes. In the meantime, you can shop, dine and enjoy holiday décor and festivities throughout Disney Springs!  When it's your turn to meet jolly old Saint Nick, you can use PhotoPass services or your own camera to capture photos with Santa.
Santa will be greeting guests daily beginning November 13 through December 24 from 12:00 p.m. until 10:oo p.m.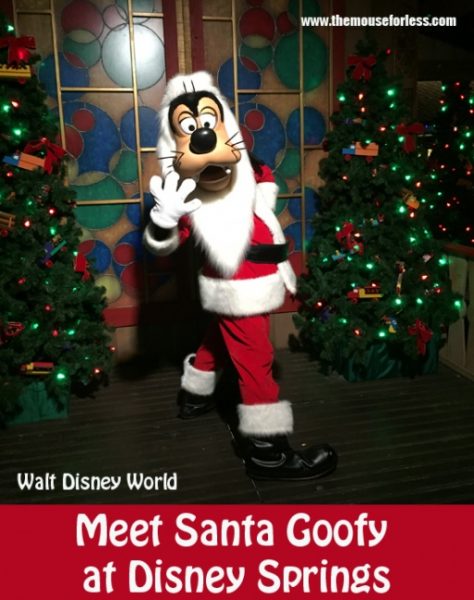 Once Santa has headed back to the North Pole, Santa Goofy will then meet with Guests from December 25-29during the same hours.
Marketplace
Look for entertainment throughout the holiday season on the Marketplace Dock Stage, featuring DJ Dance parties and school choir caroling groups on select nights.
Holiday Carolers will perform favorite Christmas tunes from 6:00 p.m. -10:00 p.m. each evening from November 13- December 30.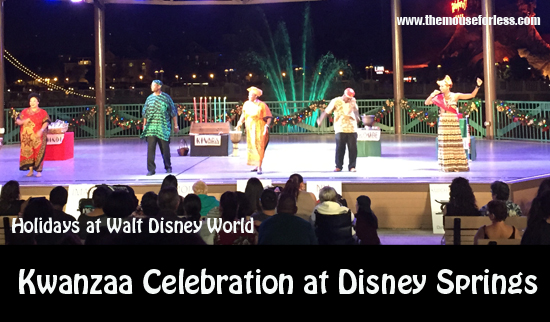 The Marketplace holiday celebration continues with a special Kwanzaa musical group appearing at the Waterside Stage December 26 – 27.
Guests will be astounded by the Holiday Stilt Walkers appearing throughout Disney Springs from 6:00 p.m.-10:00 p.m. each evening from November 13 – December 30.
The Landing
Waterview Park gives guests the chance to learn about and experience the story of Hanukkah through music. Showtimes are scheduled throughout the evenings of December 6 – 13.
West Side
Guests will be transported to a magical winter wonderland as they visit the West Side. The vibrant blue ornaments, beautiful white holiday lights, and contemporary Christmas trees will bring holiday cheer to all ages.
TheMouseForLess Disney Springs Tips

Disney Springs features holiday shopping adventures for every age and budget, including Once Upon a Toy, filled with exclusive playthings from Disney and Hasbro; World of Disney, the world's largest character emporium, plus LEGO Imagination Center and Disney's Days of Christmas holiday shop.

To top off your Disney Springs holiday shopping trip, be sure to stop by Ghirardelli for Sea Salt Caramel Hot Cocoa – it just doesn't get any better!
Holiday Tours
Disney's Holiday D-Lights Tour
Accompanied by a holiday host the Holiday D-Lights Tour has a little of everything. Visit Epcot theme park for a performance of the inspiring Candlelight Processional, a retelling of the Christmas story brought to life by a 50-piece live orchestra, mass choir and celebrity narrator. Travel to Magic Kingdom theme park to admire the majesty of Cinderella Castle, which appears to be a crystalline ice palace, courtesy of some very special lighting. At Disney's Hollywood Studios theme park, stroll through the Osborne Family Spectacle of Dancing Lights and be dazzled by the millions of twinkling lights choreographed to the music of the season. Also visit the the Decorating Support building and learn what it takes to transform the entire destination into a winter wonderland and enjoy a light, holiday buffet.
Disney's Yuletide Fantasy Tour
Disney's Yuletide Fantasy Tour takes guests behind the scenes at Epcot, the Magic Kingdom, Disney's Hollywood Studios and the Grand Floridian to learn how holiday Magic is created at Disney World. You'll also get to visit the Holiday Services warehouse where holiday decorations are stored.
To reserve either tour, call (407) WDW-TOUR. For more information on the holiday tours, visit our Disney Backstage Tours & Experiences page.
Holiday Dining
Holiday Dining Around the "World"
Several Walt Disney World resort and park restaurants will offer special holiday dining from mid-December through early January 2015. Holiday pricing will be in effect during these periods which means higher than normal prices at some restaurants. Reservations should be made well in advance and are available 180 days in advance by calling 407-WDW-DINE or going online. As it get closer to Christmas, Disney may open additional seasonal venues in the parks. Special holiday treats can be found throughout Walt Disney World resort during the holiday season – from snack carts, to bakeries and confectioneries, to Quick Service and Table Service restaurants and even at resort and park gift shops.
Check here for a full list of restaurants offering Christmas Day dinner.
TheMouseForLess Tips

During the holidays, many Walt Disney World Resort quick-service restaurants issue dining receipts with a coupon for 20% off merchandise at select shops during hours before 1 p.m. While coupons have an expiration date, they do not have to be used the same day they are issued. Coupons are not valid on some merchandise, including alcohol, tobacco, Disney ticket media, periodicals, postage stamps, digital & video cameras, personalization, DVDs, CDs, Disney Dollars, and Disney Gift Cards.
Holidays at the Resorts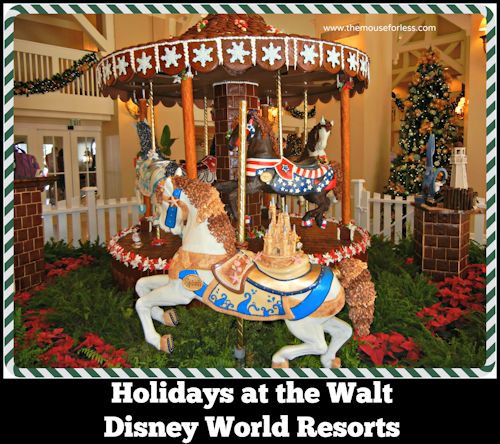 Each holiday season, like Santa's elves, the Disney chefs work many hours creating larger-than-life displays from edible ingredients all across Walt Disney World Resort.
Resort Decoration Highlights & Edible Displays
Most of the gingerbread displays have delicious sweets for sale, and activities like gingerbread decorating. Don't miss these special holiday highlights at the Walt Disney World resorts.

70-foot-tall Christmas tree in Disney's Contemporary Resort entrance lobby featuring nearly 35,800 white LED lights, and giant themed Christmas trees in the lobbies of Animal Kingdom Lodge, Grand Floridian Resort & Spa, Wilderness Lodge and other Deluxe resorts. Each tree's decorations are themed to its particular resort. Also, don't miss the largest wreath at the WDW Resort, which is 25 feet in diameter with 18′ elliptical ears. It is located on the exterior window 4th floor of Disney's Contemporary Resort facing Bay Lake Tower at Disney's Contemporary Resort.

The life-size, edible carousel at Disney's Beach Club Resort, featuring ponies made of chocolate and fondant, giant candy cane poles, handcrafted snowflakes and 16 hidden Mickeys. The carousel is surrounded by poinsettias and a there are even hand painted chocolate Disney characters surround by snowflakes. Don't forget to look for the miniature Magic Kingdom made out of gingerbread! Holiday treats will be sold from the Beach Club Marketplace.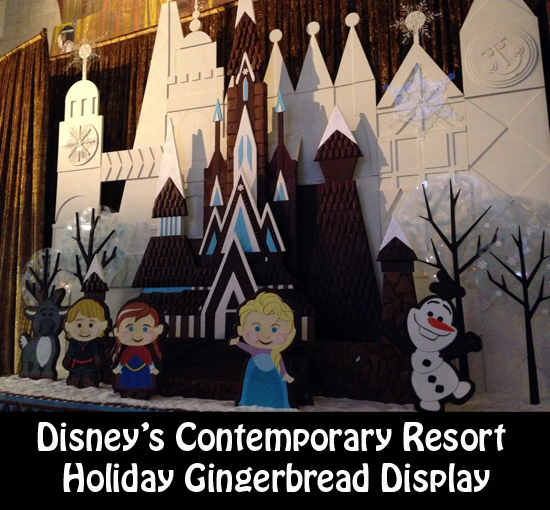 This year the Gingerbread Holiday Ice Castle can be found on the 4th floor concourse of Disney's Contemporary Resort. Inspired by the art of Disney legend Mary Blair (who designed the mural in the Contemporary concourse), the Ice Castle is decorated with "Frozen" characters Anna, Elsa, Olaf, Kristoff and Sven. The display is made with 311 lbs of honey, 514 lbs of flour, 212 eggs, 67 lbs of spices, 222 lbs of icing, and 423 pounds of chocolate. There are even 1,500 gingerbread shingles and 15 hidden Olafs in the display. For sale nearby, look for a selection of holiday treats.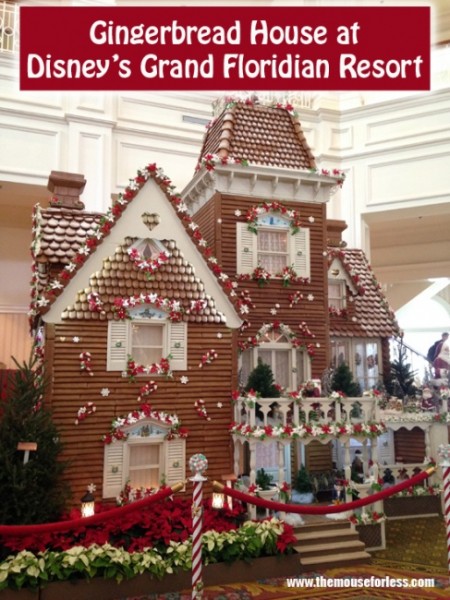 The 16-foot Victorian gingerbread house at Disney's Grand Floridian Resort & Spa is made from 1,050 pounds of honey, 600 pounds of powdered sugar, 800 pounds of flour, 700 lbs of Chocolate, 140 pints of egg whites and 35 pounds of spices. It even has smoke coming from the chimney! Plus, the gingerbread house actually serves as an operating store from which to purchase holiday goodies from 10am-10pm daily. You'll find gingerbread shingles iced with chocolate, gingerbread cookies, gingerbread ornaments, miniature gingerbread houses and chocolates of all types, shapes and sizes, including Disney characters, peppermint bark, assort truffles and more!  Guests can also take part in gingerbread house demonstrations from December 1-25 from 1:00 p.m. until 2:00 p.m. in the lobby.

Disney's Yacht Club Resort features an edible train display with a rock candy mountain and village. Look for favorite resort locations within the display such as the Yacht Club Galley, as well as Mickey's Village.

Disney's BoardWalk Inn features Ginger's Bread and Cookie Shoppe where Guests can purchase sweets such as Candy Cane Gelato, Brownie Pops, Gingerbread Cupcakes, Sollen Bread, Mickey and Minnie Cookie Dipped in Chocolate, and a Snowflake Shingle Cookie. The display features 11 hidden Mickeys and a gingerbread Mickey sculpture on top!

In the past, there have also been edible Christmas village displays at Animal Kingdom Lodge outside of Boma on the lower floor and one the second floor of the Polynesian Resort lobby. More info about the return of these edible displays will be posted if and when it becomes available.
Fort Wilderness Resort & Campground Sleigh Rides
Holiday sleigh rides will be available from late November – late December 2015. A fire-engine red sleigh with garland and holiday lights will take you through parts of the 700-acre backwoods resort and along the shores of Bay Lake. The magic-makers at the resort's Tri-Circle-D Ranch have equipped sleighs with tires for rides around property. Four adults or two adults and three children should be able to ride on each sleigh. You'll depart from outside Crockett's Tavern at Pioneer Hall and travel through the campground on a 25-minute ride that highlights many of the extravagant decorations put up by campground guests. Call 407-WDW-PLAY to make reservations up to 180 days in advance.
Character Appearances at Deluxe Resorts
Look for characters such as Mickey and Minnie to make appearances at most Deluxe resorts during the week prior to Christmas. Appearances typically occur throughout the day beginning in the afternoon and select times are listed below. Consult your resort front desk for more information and additional times.
Resort Holiday Entertainment & Activities
The Walt Disney World Resorts have a lot of activities and entertainment planned for guests staying at a Disney Resort each holiday season. On Christmas Eve, Santa makes an appearance in most hotel lobbies and on the porch at Crockett's Tavern at Fort Wilderness.

Fort Wilderness Resort and Campground: If you can find the time, drop by the campground for the afternoonChristmas Golf Cart Parade on December 24 and be sure to checkout the decorated campsites while you are there. Many of the campsites are much more elaborate than one would expect and it's fun to just stroll through the area. Campsite decorations begin going up anytime after Halloween and many of them border on spectacular. All are original! This is definitely a great place for photo ops during the holiday season. From Pioneer Hall near the boat marina, a 1- to 2-mile walk will easily cover many if not all of the campground loops, or for a fee, reserve a horse-drawn sleigh ride to see the sights. Cheaper horse-drawn wagon rides departing from Crockett's Tavern at Pioneer Hall may be available without a reservation.

Disney's Animal Kingdom Lodge: Each holiday season, with help from the Disney's Animal Kingdom Lodge Savanna Guides, families and children use colorfully dyed ostrich egg pieces – from eggs laid by the resort's and Disney's Animal Kingdom ostriches – to create holiday ornaments that they can take home.
TheMouseForLess Resort Tips

Due to the busy holiday season, many Walt Disney World Deluxe resorts will have restrictions for the Guest parking lots. The parking will be restricted to only those staying at the resort, attending a convention event at the resort or with dining, recreation or spa reservations.

There are many holiday photo opportunities in the lobbies of Deluxe Resorts in front of towering Christmas trees and in many cases, Disney PhotoPass photographers are on hand (usually from dinner time onward). You can have as many photos as you like taken and added to your Disney Photopass card or packages. Dress up the family and have one taken for a family keepsake, framed holiday gift, or as your next family Christmas card photo.

During the Christmas holiday some deluxe resorts have served free treats such as snickerdoodles, apple cider, and candy canes, in the lobby area. In the past, free treats were available at both the Wilderness Lodge and Polynesian resorts during Christmas week.

Walt Disney World Florist can deliver a Christmas tree, Surprise Stockings and other holiday goodies directly to your resort room with advance notice. Go online or call 407-827-3505 for more information.

You can read more about Christmas at the Epcot resorts on the blog of our travel partner, The Magic For Less Travel.
Holiday Events at the Swan and Dolphin Resorts
Santa has voted the Walt Disney World Swan and Dolphin his all time favorite resort! Every year beginning at the end of November, Santa and Mrs. Claus take a vacation at the Orlando resort to rest up before "the big night"! Join the Swan and Dolphin for a nightly tree lighting in the lobby, carolers, choir performances, cookie decorating, classic Christmas movies or hang out with Santa and Mrs. Claus at their special Florida tiki hut. At the Swan, check out the life-sized Santa, crafted from 1,200 pounds of chocolate, the chocolate Christmas tree, fireplace, toy train, and 7-foot tall, 400-pound chocolate nutcracker.
TheMouseForLess Swan and Dolphin Tips

The Swan and Dolphin Resort has a nightly light show featuring the palm trees that line the walkway between the two resorts. The tree display features dancing lights in hues of red, green and purple synchronized to holiday music. The show begins at approximately 6 p.m. each evening and continues throughout the night at 10 minute intervals.

You can read more about Christmas at the Swan and Dolphin on the blog of our travel partner, The Magic For Less Travel.
Religious Services
Christmas Day religious services are generally offered at the Contemporary Resort in the Fantasia Ballroom. The Contemporary parking lot, as well as the Polynesian and Grand Floridian lots, are restricted for parking during service hours and attendees are advised to use resort transportation via the resort monorail or Contemporary boat dock or walkway from the Magic Kingdom.
Holiday Merchandise & Special Offers
Every year a great selection of holiday merchandise and special offers are offered throughout Walt Disney World Resort and run the gamut from special holiday makeovers, holiday ear hats, holiday Vinylmations, trading pins, special holiday gift tins and candy treats, and much much more. Notable items will be mentioned here as they are released.
Guests can celebrate the holiday with a spectacular In-Room Celebration at your Disney Resort hotel! Guests should be sure to set up the holiday surprise of a lifetime in the comfort of your room with an over-the-top, personalized welcome prepared by the world's most famous mouse couple with the "Dreaming of a Disney Holiday" gift option which comes complete with personalized gifts from Mickey and Minnie!This extra-special surprise is only available from October 28, 2016 to January 9, 2017. Plus, consider adding even more cheer to your room with the separate purchase of a beautifully designed Christmas tree or personalized stockings. To learn more about this and other In-Room Celebrations, please visit Disney Floral and Gifts online or call (407) WDW-GIFT or (407) 939-4438.
Exclusive Member-Only Holiday Parties & Events
Disney Vacation Club members are invited to the exclusive Merry Member Mixer. This even takes place at the World Showcase Pavilion at Epcot from 3 p.m. – 5 p.m. November 24 and December 1, 15, and 22. Members and up to six guests enjoy character meet-and-greets, children's crafts, a DJ dance party, and limited-edition merchandise. No RSVP or reservations are required, but a valid member I.D. must be shown to enter.
Other Holiday Events
New Years Eve
From celebrations in the theme parks to an upscale dining experience and dancing on Disney's BoardWalk, take your pick of how you want to ring in the New Year. See our New Years Eve Events page.
https://www.facebook.com/DisneyQuestion/