As you know Disney World is always in the cutting edge of creating new and exciting experiences that will blow our minds and will leave us wanting more and more!  Check out the new awesome list of what is coming to Disney World in 2018 and beyond!

1. New Main Street, U.S.A. Theater
A new venue for world-class entertainment is coming to Main Street, U.S.A. at Magic Kingdom Park in Florida. And a first look at the new theater was just unveiled minutes ago at D23 Expo 2017. If the image of the theater looks familiar, that's because the new entertainment venue will be based on the iconic Willis Wood theater in 1920s Kansas City, where Walt lived after he left Marceline. And as you can see from the design, it'll fit well right off Main Street, U.S.A.
Location: Disney's Magic Kingdom
Opening: TBD
2. Tron Lightcycle Power Run
Imported from Shanghai Disneyland, Tron Lightcylce Power Run is a coaster-style attraction where riders board a train of two-wheeled Lightcycles. The ride pushes you into the energy, lights and excitement of TRON's high-tech universe.
Location: Disney's Magic Kingdom
Opening: 2021
3. Star Wars – Galaxy's Edge 
We've known for a while that new 14-acre Star Wars-themed lands would be coming to both Disneyland Park and Disney's Hollywood Studios in Florida. The expo revealed models of the highly anticipated lands and more details, including that they would be named Star Wars: Galaxy's Edge. Both will open in 2019, with the California version debuting first. Visitors will be able to interact with characters such as Kylo Ren and BB-8, dine at the Cantina, and otherwise geek out in the highly immersive, sci-fi havens.
Location: Disney's Hollywood Studios
Opening: 2019
4. Mickey and Minnie's Runaway Railway
Mickey and Minnie's Runaway Railway – Starring everyone's favorite pair, this new attraction will put guests inside the wacky and unpredictable world of a Mickey Mouse Cartoon Short where they're the star and anything can happen. This new ride will feature  "2 1/2 D," a new no glasses required experience. This new experience will replace The Great Movie Ride.
Location: Disney's Hollywood Studios
Opening: TBD
5. Guardians of the Galaxy
Guardians of the Galaxy-inspired attraction will have the Marvel's heroes touch down into Future World in a new attraction that will replace Ellen's Energy Adventure.
Location: EPCOT
Opening: 2021
6. New Space-themed restaurant
Space-themed restaurant—date TBD—Guests will have the opportunity to dine in the stars in a space-station themed restaurant to be located next to Mission-Space.
Location: EPCOT
Opening: 2021
7. New film for the China pavilion
New film in China Pavillion /  opening date TBD—
Walt Disney Imagineer Tom Fitzgerald announced that we are creating a new film for the China pavilion at Epcot that'll feature the splendor and majesty of that amazing country – and we're doing it with some new technology.
Location: EPCOT
Opening: TBD
8. "Ratatouille"-inspired attraction
The France pavilion will be receiving an imported favorite. Similar to the popular 4-D ride Ratatouille: The Adventure that opened at the Walt Disney Studios Park in Paris, guests will shrink to Remy's size and scurry to safety within Gusteau's legendary Parisian restaurant.
Location: EPCOT
Opening: TBD
Disney World Hotels and Resorts
9. Star Wars-Inspired Immersive Resort 
Debuting as part of the new Disney 360 vacation concept,  this new star wars hotel announcement is being billed as a living adventure that allows guests to immerse themselves in an entirely new form of Disney storytelling. From the second you arrive, you will become a part of a Star Wars story! You'll become a citizen of the galaxy and experience all that entails, including dressing up in the proper attire. Once you leave Earth, you will discover a starship alive with characters, stories, and adventures that unfold all around you. It is 100% immersive, and the story will touch every single minute of your day, and it will culminate in a unique journey for every person who visits.
Location: EPCOT
Opening: TBD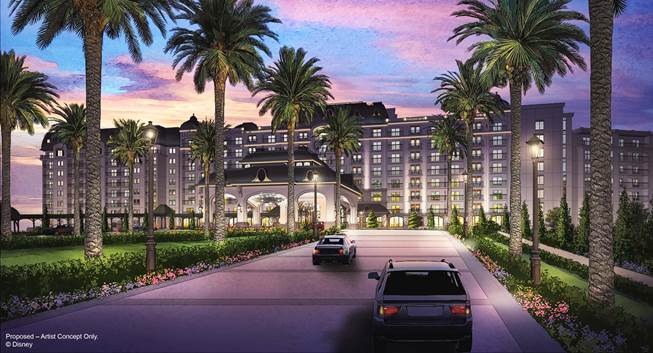 10. Disney Riviera Resort 
Disney Riviera Resort  is Disney Vacation Club's 15th property will have a rooftop restaurant and views of nighttime shows at Epcot and Hollywood Studios.
Location: EPCOT
Opening: TBD
Disney World Transportation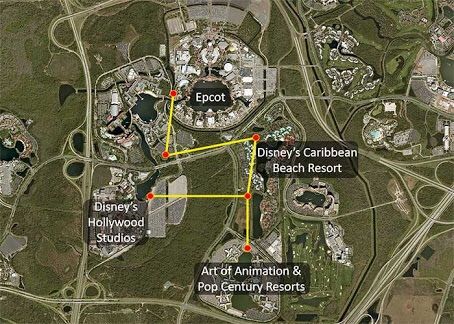 11. Walt Disney World Skyliner
A new gondola system will connect Disney's Art of Animation, Pop Century and Caribbean Beach resorts and other locations with Disney's Hollywood Studios and the International Gateway at Epcot.
—- Disney Skyliner opens Spring 2019!