Well folks, we are getting closer to the date! Universal Orlando is promising more details on the attraction, which is replacing the Twister ride at Universal Studios Florida, will be coming soon but it's a very safe bet that the ride will be a 3-D simulation ride. The vehicles that will be used have a sort of "Tron"-like futuristic look to them, a bit of an odd choice since it appears that riders will be zipping around present-day New York City. Perhaps a taxi would have been the more appropriate choice, but who am I to quibble?
Race Through New York Starring Jimmy Fallon is set to open in 2017 and hopefully we'll get an opening date very soon.
So what can riders expect?
The theme park is touting is the new ride vehicle, which will seat up to 72 people, as "the world's first-ever flying theater."
According to Universal the ride will begin with a queue based on Studio 6B Club, where guests will be able to watch popular bits from shows like "History of Rap" and "Lip Sync Battle" as well as meet the Tonight Show mascot, Hashtag the Panda.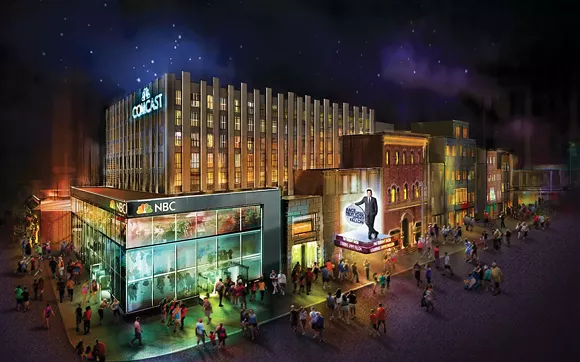 Once onboard the ride, you'll be seated in what Universal calls a "flying theater," and race Jimmy Fallon through the streets of New York. The 72 guests who can be seated in the theater at a time will witness iconic New York landmarks as well as familiar Tonight Show characters.
 You'll also be able to send notes to friends and family and play a "Jimmy Drive" retro-style video game.