Google Street is known to turn our world into something we can see virtually online. Google Street launched in 2007 they conquered the world of online maps and since then they have created virtual places such as parks, national landmarks, inside shopping malls, etc. But up until now, major theme parks where never done.  A Google street view camera was spotted at Disney's Magic Kingdom theme park. This may be the beginning of something big!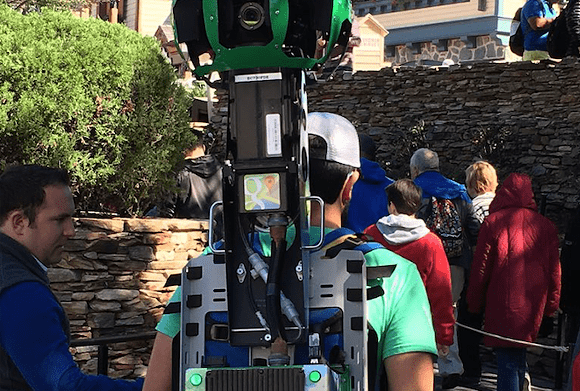 Photo via WDWShutterbug/Twitter
A guest with a Google Street View backpack was spotted with a team of Cast Members walking around the Magic Kingdom earlier this month. Numerous social media reports mentioned that the Google Street View backpack was spotted in the riverfront area (mostly Frontierland) of Magic Kingdom and on a boat going to Tom Sawyer Island.
Disney and Google have yet to officially mention any collaboration on bringing Street View into their parks. Disneyland Paris resort is currently the only Disney resort in the world to feature Street View. Both Disneyland Paris and the neighboring Walt Disney Studios Park feature Street View; though it's extremely limited in both parks.
At the moment, the only Disney parks you can visit from the comfort of your own home are Disneyland Paris and the Walt Disney Studios Park in the same city. Both experiences are also quite limited. The Trekkers' presence in Orlando could change that, but it might take some time before Google can set up a virtual tour for us. View the video below about Google's Trekker…
Here are some social media pics of Disney World visitors who spotted the Google Trekker…
Just saw Google guy at Epcot! pic.twitter.com/4TqoTLu9qB

— Christa (@mckryan) February 16, 2016
This Google dude on the raft. pic.twitter.com/BMvrbbkZsB

— Diane (@dichuy) February 5, 2016
According to a picture snapped by an attendee at Disney World this week, it appears that the Google Street View team has been wandering around the park capturing imagery using their special camera equipment and rig. This week's appearance wasn't the first time the Google Street View rig was spotted taking a stroll around the park though, as multiple users have reported seeing a Google employee walking around with the camera rig on their back. While this likely suggests that Google Street View will at some point allow users to explore sections of the Disney amusement park, to what degree is still unknown.
For Google to be allowed to walk through the park and capture the images using the Street View equipment would mean that Disney and Google have some form of a partnership going on that perhaps brings Disney parks to anyone with the ability to access Street View from a device with an internet connection. Although it's obviously not quite the same as being there in person, it could offer up a fun way for those who may not be able to visit the park physically to see things from a perspective they may never get, or at least not for some time. Whether or not Google decides to complete the same coverage of image capturing at other Disney parks in places like Disney Land and California Adventure is unknown, but if they complete all the Disney parks in Orlando there is a chance they may decide to expand this project to other locations as well.