The Magic Kingdom will be transformed into a winter wonderland for Mickey's Very Merry Christmas Party. Snow will magically fall on Main Street, Mickey and friends will be garbed in seasonal apparel, and Cinderella Castle will once again shimmer in ice with the indescribable Castle Dream Lights. Similar to Mickey's No So Scary Halloween Party, there is much to see and do, but here are the seven things that will help get you into the holiday sprit at one of these parties!
Mickey's Once Upon a Christmastime Parade – The parade features a variety of characters in their holiday gear, but also features multiple groups of dancers and holiday floats. The holiday floats are special because they are able to pump the scent of their floats into the crowd – aromas of mint, pine, and vanilla will bombard your nose. Guests will get to see Santa Claus at the end of the parade, but the high point of the parade are the appearance of the Toy Soldiers. The Toy Soldiers are in their full uniform, some with instruments marching and dancing a very well-choreographed march. Cheers go up from the crowd when these guys march on by! Guests who aren't able to attend the party are in luck because Disney does show this parade during regular park hours from December 20 till December 31, twice daily at 12 PM and 3:30 PM.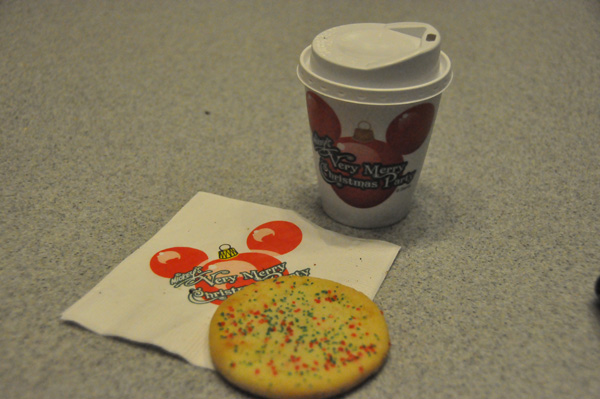 Free and Delicious Treats – guests who attend the party are able to grab free treats throughout the night at various locations (look for the giant candy canes). Guests can choose from Snickerdoodle cookies, apple slices, hot chocolate, and apple juice. Party guests are also treated to specialty, designer desserts at various locations during the party – this year it was either a Holiday Tree Cupcake or a Holiday Bear Cupcake!
Decorations – guests are treated to wonderful holiday decorations throughout the park, but the decorations are most noticeable on Main Street, U.S.A. There are holiday wreaths hanging from the lampposts, a gigantic Christmas tree in Town Square, and Cinderella's Castle is adorned with Christmas lights. If you've never seen it, look around on the Internet for a time-lapse video that shows you how the Magic Kingdom is practically transformed overnight from having its Halloween decorations to its Christmas decorations. You won't believe it!